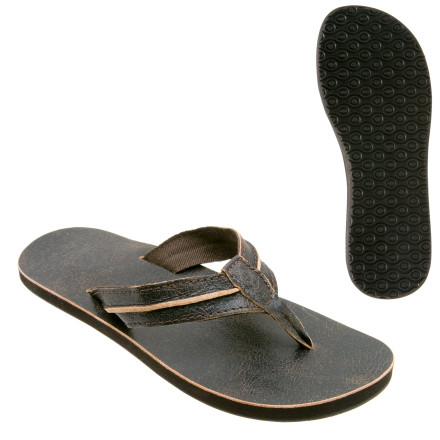 Detail Images
they are so sick and comfy. a little squeaky at first but once you wear em a few times they are good to go!
the sandals are even sweeter in person i love them! i was stoked on the price. I've been looking for a set of flip flops like these for over a year and though they're not my most comfortable flips i have no complaints
I have these in red and they are red hott, but the arch support thing is kind of funky. I love Reefs but these are the most uncomfortable sandals they probably make!I am keeping them for fashion not for long walks!
I have these in the sand color which is a suede leather and they feel great. They don't slide too much like some other Reefs and they are super comfortable. While the sand does get a little dark from wear, it should be expected as they are so light in color.
These are not anything like the reef sandals I currently own, even though they are the same make and model!
, ☃bcs_badge_alumni_label☃
swing low... or high!
I really like these sandals. I have a few variations from other companies (Gravis, etc.) and these seem to be holding up better than some of their competitors. I don't find them slippery like the other review, but maybe I'm more used to walking around barefoot and I'm carrying a bit more grit around in general. They fit true to size, and I like that they are wide enough for my feet, but still look dainty.
slippery and flops too much
I tried a pair on while at the mall (not in my size) but I thought they were really comfortable. I ordered a pair online and disliked them after wearing them for a week. Really, all it took was 3 days for me to see how slippery they were. The leather doesn't get slippery until your foot rubs against it after several wearings. Also, the shoe flops a lot. It almost seems as if the shoe is heavy and that's why it doesn't follow my foot motion very well. I'd recommend buying the sunnie sandal more. I ordered both a few weeks ago and have come to see that the sunnie sandals are better.