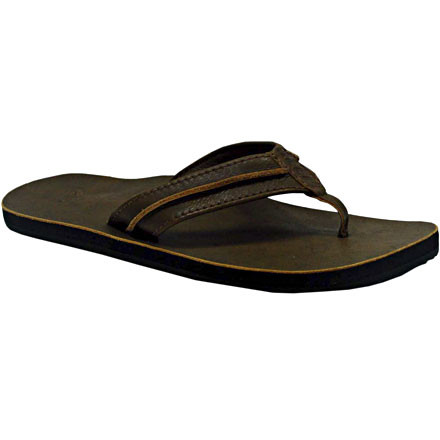 I ordered the same size online as my previous par of reefs which i really liked, but got old. had to return them. makes me wonder why the reefs from this website to fit the same as the reefs from my local mall.
i bought these sandals a few years ago... and let me tell you.. they are comfy. however the guy who wrote the review about wearing these everyday for two years is full of shit. I wore these almost every day for about six months before the thong piece that sits between the big toe and index toe ripped and cut my foot with the sharp plastic it exposed.. a good deal.. just dont expect them too last..
I just got my second pair of Reef Sultans and this will be me go to brand for life. They are comfortable right out of the box and the more you wear them, the comfier they get! Over time the bottom of the sandals begin to take the shape of your foot for the ultimate in custom footwear. I definitely recommend these sandals.
Geat quality, funny shape Reef Sultan Sandals
I love the smooooth leather. Quite comfortable for a flip flop. Seems to be well made after 1 month of use.

The problem I have with them is the sizing/shape. I typically wear a 9.5 in men's shoes, but I had to order a 10 in these to get one that kind of fit. The base is too narrow (although I have medium-narrow feet), and the front is too short (and I have probably average to short toes). So, if you have very narrow feet with short toes, these will be fine, otherwise, probably want to go elsewhere.
I wear a 10.5 in most shoe makes. What...
I wear a 10.5 in most shoe makes. What size should I get in the Reef flip-flop?
You need a size 11. With flip-flops, always upsize when you're in between.
This are great... Everyday for 2 years and still kicking
Awesome sandals. Bought 2 years ago and wear them almost everyday atleast to walk the dog and most days to work and they are still alive and kicking!

Excellent for the beach or the pool or for just wearing around
These are some good sandals. personaly i dont really like sandals because they hurt in between my toes, but these ones are really nice to peoples feet who are like mine.
It is very comfortable and stylish. I love to wear it everyday. Very nice flip flop!!
These sandal's work like they should A+++ in every way :-)
Super comfortable Flip Flop
I love the leather on these. They are super comfortable both under the foot, on top and in between my toes. If you live in flip flops these are a must. Reef rules when it comes to flip flops and I think these are the best they make.