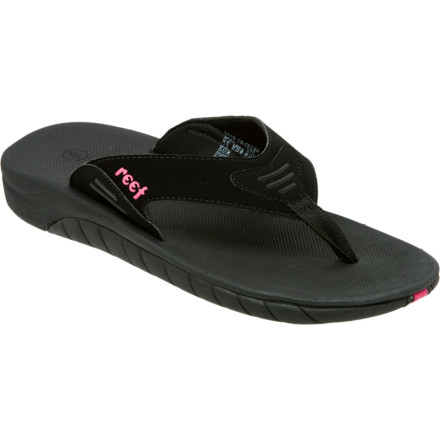 Detail Images
They're comfortable, supportive and all around awesome. They're basically indestructible.
I bought these to replace a pair of reef sandals I had for about 6 years. These babies last! I wore them about 320 days a year for those 6 years. Got these and they are great, same fit and comfort. Bring on the next 6 years!
do you know where i can get a pair of slaps...
do you know where i can get a pair of slaps i bought years ago, they were pink and white i also had a blue and white pair. and i believe you made a green and white pair.
These are no longer available.
Unanswered Question
Write your question here...Are these sandles...
Write your question here...Are these sandles being sold by the stamped size (mens) or are thewy relabled to sell at womens size? I ware saize 8 womewns but I know they were stamped by mens size.
I bought my first pair of Reef Slap sandals over three years ago in Key West, FL. What a find!! I am still wearing them and have purchased two other pairs since. They simply will not fall apart and are the most comfortable flip flops I have ever worn. I have waded rivers in them, waded snow in them (sorta stupid) and the original pair is still holding together. Hope they never totally quit making them, but I am getting a bad feeling. I was having a problem with my heels and they were the only shoes I could wear comfortably until they healed.
Most comfortable flip-flop I've ever worn
These are awesome--cute and comfortable. I couldn't believe how great they fit my foot. I have a narrow foot, and for the first time, a flip-flop didn't flap around when I walk. I LOVE THIS SANDAL and will buy more colors for sure!
LOVE the Reef slap sandal! Comfortable, cushioning on the foot, wide strap that doesn't cut into the skin. I can walk for days in this sandal without ANY discomfort. I prefer this sandal to the daily sneaker I wear (which I love) because the sandal is "part of my foot" and it allows my feet to breathe.
I use to wear Chaco sandals until I tried on a pair of these. Now this is all I wear. I can't believe how comfortable these are. I now own 3 pair .
I bought a pair of these in black about 4 years ago, didn't think they were all that attractive,but incredibly comfy!! As of today I own every color they make which is about 9 pairs. Their expensive but well worth it and they hold up well too..a great beach shoe!!!
I bought these sandals after discovering a pair of white & green ones two years ago. They are still around and I love my new pink ones! I highly recommend them!
The Reef Women's Slap Sandal is smooth and comfy. My mom thought so too and now I have a second pair!