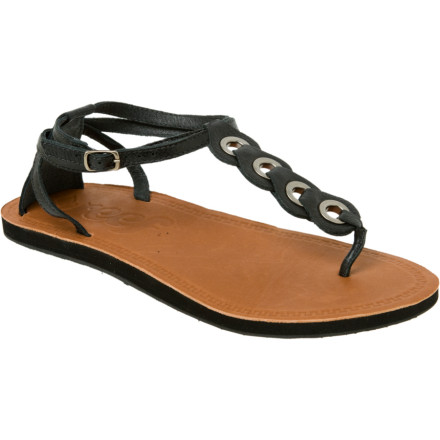 Detail Images
I've always been a fan of Reef sandals, and these are no exception. They are very cute and stylish, and incredible comfortable as well. I'm usually a 7.5, but am able to wear a size 7. The only issue with that is that sometimes the toe strap makes my toes a bit sore, but it's nothing big.
Definitely would recommend these!
I really like the look of these, you can wear them up or down. Very versatile. However, I always get blisters whenever I wear these. Maybe I just need to break them in, but I've been hesitant to wear them again.
I get compliments everyday I wear my Reef Paradise Sandals and I totally love them. I wear them pretty much everyday. They are more comfortable than flipflops and they stay on your feet. No flip-flop noise when you walk either. I have them in the brown/turquoise color and I'm thinking about getting another pair. Maybe black. Love them, recommend them. Cute, functional summer sandals. My favorite sandals I own.
Reef Paradise Sandal - Women's
Cute and comfy but really annoying to get on. I have wide feet and I have to adjust the straps every time I wear them. My feet don't fit very snug in them so my feet slip around on the bottoms. For fashion, I totally recommend them. For function, not so much.
These sandals are so cute! I get in touch with my inner hippie when I wear them. Need to break the back heel in, right out of the box, they look great, but when I walk my foot is pushed forward and I get a toe wedgie. Other than that, really comfortable shoe, and can't wait till I break them in!