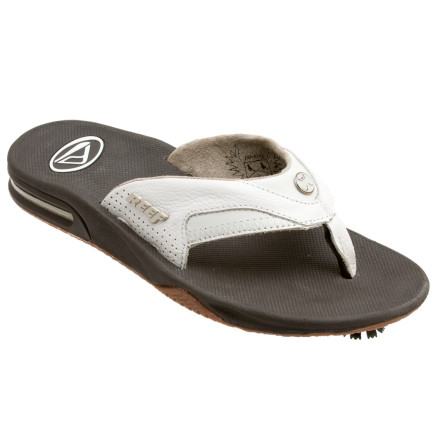 Detail Images
Does anybody know where we can buy these...
Does anybody know where we can buy these at?
Hey Jennifer,

Unfortunately these are no longer made. You wont be able to purchase them anywhere unless someone has been hoarding them to sell on ebay. I apologize for the inconvenience.
Hey Cecilia,

Being that they are from 2009 you'll be hard pressed to find these for sale anywhere. I would try calling Reef directly just in case.
I bought these flops about a month ago. Played 5 rounds in them and love them! they fit a little snugger than most reefs, but that is actually a good thing. Just shot my best round ever in them this past weekend. Highly recommend!
I am trying to find out big of a difference...
I am trying to find out big of a difference there is if you usually wear a size 14, if these might work
There is a chance that a size 13 in the Reef Mick Spackler may be too small for somebody that usually wears a size 14. There is a chance that the person wearing the sandal may not mind since it is a sandal and that allows for the heel of the foot to hang off the back a little. If you are going to wear these golfing then I suggest that you make sure you are happy with them before you use them. I would suggest either going to your nearest Reef dealer and trying on a similar style sandal to see if it will fit right. You don't want to throw off your golf game with a bad fitting sandal. If you order these from Dogfunk understand that there is an open return policy and you may send them back with no questions asked. If you have questions about that contact one of the Gearheads and they would be happy to answer any questions you may have.
So comfy with every step!! Will never venture off to another brand! I love reefs.