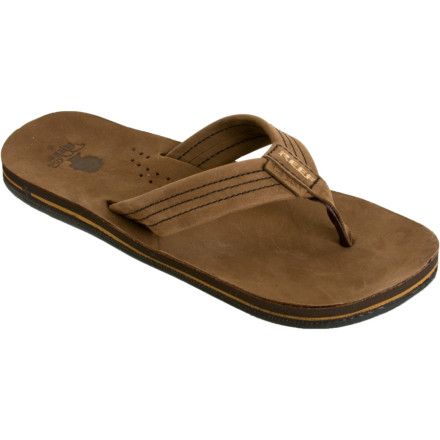 Unanswered Question
i am looking into buying these flip flops...
i am looking into buying these flip flops but the my feet are wide and they look narrow ?
sturdy. sole will last forever. Chill, not in your face style. looking for a good leather flop? this is it!
Break 'em in and you'll love 'em. The recycled tire sole makes you feel good about supporting Reef and the upper leather is casual yet classy.
These are sick sandals, its like walking on warm sand. First pair of reefs ive ever owned usually buy Hurley or Rainbows and these blow those out of the water. Dont mind paying the price for such a great look and feel. Plus the ladies dig'em. Robs the man!!!!!
Ordered these bad boys the other day in tan color because dark brown was sold out and then the next day they got them back in stock. Oh well the tan looks sick anyways. At first when i got them I was a lil disappointed because the left sandal was permanently bent in a weird shape from shipping im guessing. Been wearing them for about 3 days now and they are super comfy. The first day they were a bit stiff but now they are breaking in nicely. They are starting to form to my foot already which is something I love about leather sandals. If you're looking for something with nice style and good comfort then look no further. Reef must have captured angels as slaves and made them cry their tears on these or something because they are awesome.
...if you know what I mean.

They're so nice you don't want to spoil them like you spoil your girls...prety slippery footbeds at first, leather has to wear in, but shape to the foot. the arches & heelcup are exaggerated so that feels pretty nice.
Do these run big or small? I am a 9/12...
Do these run big or small? I am a 9/12 should I get the 9 or 10 size?
I wear a 10 in sneakers but i wear a 9 in these sandals. I would order the size 9.
Ive had this shoe for about 5 and a half months now and I really like it. It feels great, holds up well and makes me feel a little greener every time I put it on. Hate to say it but I havent exactly been kind to the shoe and have worn it in some rough situations. It still is as solid as when it came out of the box. It is real comfy to. Only two gripes...it gets a little slippy when wet and it has started to warp occasionally. Nothing major, just a little curl upwards in the toe and heal. Not sure whether its the sun, water, or something else but it still works. I really like this shoe
The Machado Classic is a great flip flop. has that leather feel you get from Rainbow with the Reef look and comfort. This is also Earth friendly with the super grippy recycled tire sole. Looking forward to summer.
These sandals are dope. Using recycled car tires for the soles is what sold me. At first they were a lil tight, but once the leather molded to my foot, its like walkin around on a nice sandy beach 365! Super comfy, super innovative, and most importantly, super steez.
I am a lifeguard and I need a sandal that...
I am a lifeguard and I need a sandal that is durable enough to be stood on and walked on for about 8 hours a day every day. also it cant warp in the sun and it needs to be able to withstand a little bit of chlorine. is this what I am lookin for? THank you very much
Best Answer
Austin,This will work for all the needs you described. I just told someone else to take a look at the Olukai Kekai http://www.backcountry.com/store/OLU0004/Olukai-Kekai-Sandal-Mens.html this thing is designed to get wet, super comfortable, and very durable. Olukai makes a model similar to the Kekai called the Kia'i which is the official Hawaiian Lifeguard Association sandal. I would go with an Olukai slipper , it will last longer and be more comfortable. Mahalo, Sumo
I have had these sandals for a year and a half and they are still great. They have withstood daily use for almost a year, combined.