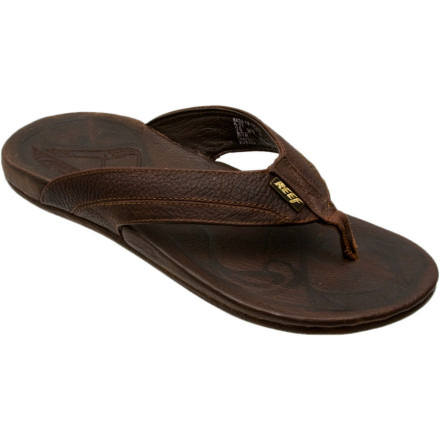 Detail Images
The Reef Macaronis Sandals keep you comfortable when you have a few too many fun-sodas and wake up floating in a kiddie pool of cheese sauce on a deserted island made entirely of pasta. The luxurious full-grain leather upper and super-soft pigskin lining let you focus on piecing together the hazy details of how you got into this ridiculous situation.
Best thing I have ever put on my feet.
Not sure why but these are the most comfortable thing I have put on my toes. I am a huge reef fan. Have worn them since I was a kid. Went and tried tons of flips on and found these. They are awesome.!! They are soft and very supportive and they look good too. Watch for when these go on sale and jump on them. You wont be disappointed. Will probably be the last ones you wear.
Best money I've ever spent on flip-flops!!
I have owned 30+ pairs of flip-flops and thought the Reef redemptions were never going to be replaced as my fav. Numerous other brands, from numerous other price ranges currently cover my closet floor. 4 months ago I picked up the Macaronis in Vegas. There are without a doubt the most comfortable sandals to grace my feet. If I could wear them 24/7, I would. Do yourself a favor and buy a pair. I just purchased my second pair, not because I need them, but because I'm afraid I won't be able to find them(or they might tweek them) when the others wear out. By the looks of the first pair that won't be for quite some time. Sand/rocks/pool water/ocean surf, they still look and feel great!! Awesome!!