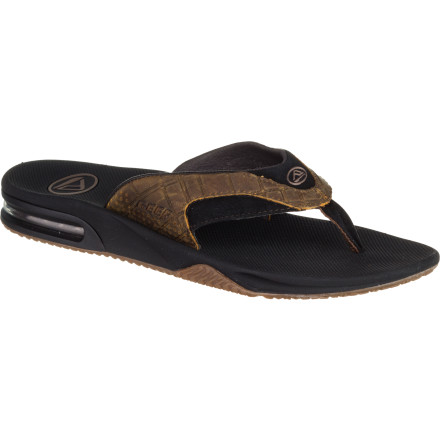 Detail Images

Videos
Description
The only thing worse than no surf is no beer.
Now your favorite beer-opening sandals are available in leather. Reef makes the Leather Fanning Sandals as a tribute to pro-surfer and pro-drinker Mick Fanning. The Leather Fannings have Nubuck or full grain leather uppers that are lined with soft glove leather for comfort. A built-in bottle opener lets you crack a bottle on the beach while everyone else's beer warms up. Just be careful not to spray the only two girls at your house party with the beer you're trying to open, trust me.
Great flips
Familiarity:

I've put it through the wringer

Fit:

True to size
Bought these for my husband in size 8 to replace a pair he has had for 10 yrs that just became unglued. He loves these are wears them whenever he has a chance, including around the house. We've used the opener in a pinch with the hopes that he hasn't also stepped in dog doodie somewhere along the way. Overall a great looking sandal that is comfy, easy to wear and has a bonus bottle opener when you're thirsty.
Reef Sandals For Life!
Familiarity:

I've put it through the wringer

Fit:

True to size
I have been buying reef sandals since I was a wee lad. This style seems to be the best fit for my foot. They don't flip and flop too much or slip off while you are walking. Great comfortable flip flop
Love these fannings!
Familiarity:

I've put it through the wringer

Fit:

True to size
These are awesome! I have been buying them for years. They do stretch a little and are pretty tight at the beginning. I always buy a size large because i prefer my heel to have a little extra room in the back. If you buy your normal shoe size it will seem like they sandal just fits. If you go a size up they will fit perfect.
Great Sandals
Familiarity:

I've put it through the wringer

Fit:

Runs small
I've had a few pairs of the fannings I love them. Definitely the most comfortable flip flops I've owned. They really hug your feet well. Very durable and the bottle opener has saved me and the closest table more than once. I am an 8.5 and the 9 fits perfect so I would go up to the next size if you are in between I think I would be fine in a 8.5 if it was available.
Great sandles
Familiarity:

I've put it through the wringer

Fit:

True to size
Living in Florida I wear these everyday I am not working and when I get out of work. I have had many different kinds of sandles and these are by far the most comfortable sandles I have had. I have walked around Sea-word with no issues. The slight arch support help when walking for long periods of time. Have had mine for almost two years and looking to replace them with another pair soon.
Reef Leather Fanning Sandal - Men's
Unanswered Question
hi there, im a ladies size 7 and was after...
hi there, im a ladies size 7 and was after a pair of these thongs in the brown and white colour. I thnk that makes me a mens size 6, do they come in this size, or a mens size 7??? thanks
i use five ten impact shoes size 42, what...
i use five ten impact shoes size 42, what size is for the sandal fit for me??
A size 10 should work for that size foot.
I wear 42 shoes and I got size 9 Reef sandals. Fit fine.
These things are great! They are the most comfortable sandal I have every worn. They don't take much time to break it and the leather has stayed nice for over a year and a half. These are a little pricy, but worth it in my book! I also have the regular (non leather) Fanning and I think the leather ones are more comfortable than the regular ones. Oh ya, and there's a bottle opener on the bottom!
These are some of the best sandals I've ever had. Comfortable, functional, and stylish. What more could you ask? Kinda wish I'd gotten the pimp white ones, though. :-)
If you couldn't tell from the title, I love my Micks. I literally wore these sandals every day of the year-snow, rain, shine, pre climb/ski/bike, or party. They don't take long to break in, but once they've molded to your feet (which takes a little longer), these are literally the most comfortable shoes you'll ever own-they feel like gloves. The leather not only looks cool, but it feels great and the exterior/interior holds up pretty decently. While it gets dirty, the bottle opener is helpful at times and a great conversation starter all the time. My one gripe is the craftsmanship. While I won't call them poor made or shoddy, I was hoping they would last a little longer than they did. I probably got about 375 complete days out of them before the toe "thong" started to come up, a common Reef problem (I've detailed it in the picture). I would totally buy another pair (but only when I can afford two pairs of sandals)-when Reef fixes their toe problem (I've experienced it with 3 other types of reef sandals), I'll come straight back and be a customer for life. But for now, I'm paying more for Chacos so I don't need to buy new pairs yearly.
These Are My 2nd Pair of MF's All Leather..........
sandals, and I wouldn't buy any other brand or model.
I live in South Florida and boy does it get HOT!!!
Because of my arches, I can't walk barefoot and the support that these sandals give me can not be beat.
I love these sandals, they are very comfy, only knock on them is the leather ones get a little sweaty, I think the synthetic used on the other style is actually better, but the look of the leather is definatley different. I own both styles and usually use these when I am going out to the pub, and use the other ones for all day adventures. Can't beat the functionality.
Got these after I completely wore out my first pair. In AZ, you LIVE in your sandals 11 months out of the year. My first pair went just over 4 years. They even survived an attack from our lab puppy about 2 years ago. Got the new ones and remembered why I got my first pair - they are absolutely the most comfortable sandal I have worn.
These scandals are a part of my soul!! I have been wearing them since they were introduced about 4-5yrs ago, they are very durable, non-marking, stylish and for the love of god they open beer! Need I say more?

Reef4Life!!
Great sandals. They are expensive but seem very high quality. They are very sturdy and I can easily run in them without them falling off and they provide great support when running. Overall great sandals, but they are quite pricey.
I usually wear slip-ons, but I decided to try out these. The first day or so, I wasn't real sure I made a good decision, however, once these things broke in, man are they nice.

The bottle opener, well I haven't perfected the art of not spilling it yet, but overall the shoes are awesome and worth double the price.

GET THEM!!!!
Everyone around you will have flip envy!
best flop ever!