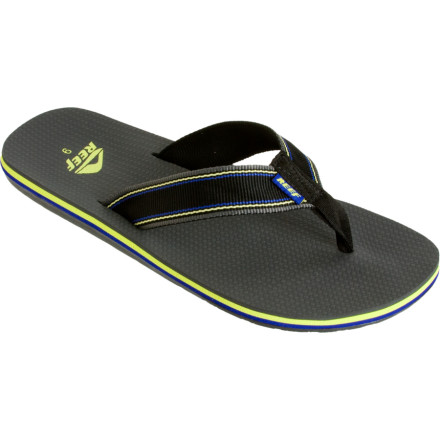 When you realize your main talent is cooking grilled cheese, put on the Reef Forte Sandal and head down to the beach to distribute your crusty love sandwiches to the masses. When everyone gets tired of slurpies and ice cream, they won't be able to resist the cheesy aroma of your converted tailgate kitchenette. If they don't line up around your station wagon, try walking around and giving out samples while the Forte's soft footbed and arc support give you the juice to stand on your feet until all the cheese is gone.
Reef makes the best sandals - hands down. My last pair lasted me 4 years of daily use. Got these to replace them and they are great! Haven't worn anything else on my feet since I got them (I live by the beach). They are really comfortable and look killer. Get these sandals if you're thinking about it.
Very comfy, look good and so far they wear great.
I bought these for the hubby & he really likes them!
I am a huge Fan of the Reef Forte sandal. This is for all of you looking for a great quality sandal with good style and comfort. It is extremely simple if you look at it but the soles are durable, the straps are comfortable and the foot bed is amazing, even for how thin it is.
Most times when I buy a new pair of flip flops it will take a while to break in and form to my feet. These feel like I've been wearing them for years.