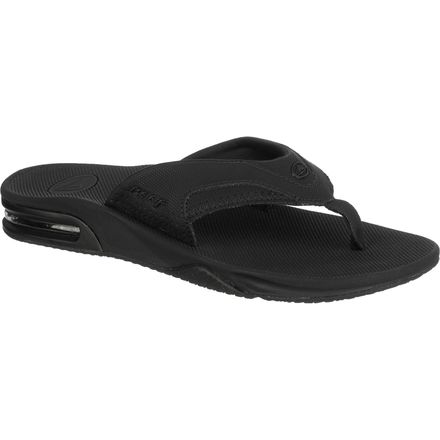 Detail Images

Community Images
Description
The Reef Fannings—crack open a cold one.
It's hard enough to carry your keys, wallet, and phone in that sorry excuse for a pocket on your board shorts. Where in the hell are you going to put a bottle opener? Unless you're crafty with a lighter or have teeth made of steel, something has to give. Good thing Reef knows what's up—the Men's Fanning Sandals come with a bottle opener built into the outer sole. Finally, a way to open your microbrews without resorting to a European carry-all. Not only do these flip-flops give you a way to drink your suds, but they feature super plush soles and thick straps that keep your feet comfortable—while you're still standing, at least.
Comfortable, runs large, quality
Familiarity:

I've put it through the wringer

Fit:

Runs large
This flip-flops are comfortable and have some arch support. I find that they run large, I usually wear a size 10, but I needed a size 9 in this model. I find that my feet sweat in this flip-flop, which is why I didn't give it a 5 start, other than that, they are very comfortable.
5th pair for me (woman, and daughter)
Familiarity:

I've put it through the wringer

Fit:

True to size
I have been wearing these for 5 years now. I had plantar fasciitis and the sturdiness helps support my feet. I wear a women's 8.5 or 9 and the men's 7 works great.
Nice Slipas brah!
Familiarity:

I've used it once or twice and have initial impressions

Fit:

True to size
Really comfy fit but kinda heavy. Does the job.
4th Reef Fannings Owned
Familiarity:

I've put it through the wringer

Fit:

True to size
They never disappoint. Purchased these for a 6 day Florida trip with lots of walking and aside from getting the toes comfortable with the thong part for the first day, unbelievably comfortable. Not sure if anyone can make one that can handle full days on the feet like these can. Most might use them for the beach and boardwalk only, but i did three full days of theme parks and loved every second. The bottle opener is no gimmick either, it works, and holds up. Style wise they have so many choices you can't go wrong. Reef the only flip flops, sandals that touch my feet from May-October every year.
Garbage
Familiarity:

I've put it through the wringer

Fit:

True to size
Cheap, cheap and more cheap. The bottle opener is kinda cool, but really who wants to open their beverage with something that's been touching the ground all day? The soles separate from the uppers very easily and contrary to the little air-pocket fake out thing, these things offer no cushion. Very thin, not much cushion, cheaply made, one star.
Heaven under feet
Familiarity:

I've put it through the wringer

Fit:

True to size
These sandals are so a part of me I wear them whenever the temperature gets over 35 degrees. I have owned two pairs now. The first pair ripped the thong after a year and a half of loyal duty. You might think that a year and a half is not long enough for a sandal's lifetime but these bad boys were put through it all. I hike, boulder (or at least try to), bike, run, and do whatever I want t do in these things. They are so incredibly comfortable I never want to put on socks when the snow starts freezing to my toes. They do get really nasty after mud, dirt, water, and sweat start to mix and dry on them. However I then just take some soap and my hand, wash them, and they're as good as new.

I have never used the bottle opener on these and don't really think I ever will but either way these sandals are my go to footwear for anything that I want to be comfortable doing, which is everything.
Uncomfortable sandals
Familiarity:

I've used it once or twice and have initial impressions
I thought I had found the prefect sandals based on all of the positive reviews I read on this site. However, when I put them on the first thing that struck me was how hard these sandals really are. It was literally like walking on a slab of concrete. I have worn all types of sandals and I have had el-cheapo sandals that were more comfortable than these. . I kept thinking I had gotten a bad pair but when I went to a local store and tried them on they felt the same way. Maybe the bottle opener on the sole is cool, but the sandals themselves leave a lot to be desired. They don't even come close to the comfort of Sperry Santa Cruz Thong sandals and Columbia Men's Tango Thong sandals. If you want comfort then those are the sandals to buy. Don't waste your time and money on these. I was very disappointed.
Is the size off because you ordered the...
Is the size off because you ordered the wrong size or because they run big?
Best Answer
They definitely run big. I know some folks need to size up because of wider feet - not the case for me - they just run big.
Sounds cooler than it is...
Familiarity:

I've put it through the wringer

Fit:

Runs large
Bottle opener on your sandal - sounds cooler than it is practical (think watching where you step all the time). Mine worked fine the few times I need it. A friend had the opener rip right our of the sole. Aside from that, the sandals are super comfortable. You can wear them for days on end. Mine ran almost a size bigger than what I normally wear. I have since opted for something more traditional.
Like clouds on your feet
Familiarity:

I've put it through the wringer
Most comfortable flip flops I have ever owned. Bought them two years ago and wear them regularly throughout the spring summer and early fall. Still holding up well and will probably end up getting a 3rd year out of them no problem... Oh, and the bottle opener is a nice touch.
Love these
Familiarity:

I've put it through the wringer

Fit:

True to size
I absolutely love these. I always buy them a size large so my heel has more room on the back. If you buy your true size, then your foot will just about fit because of how stiff the front part is. These will stretch a little.
Every year I get a new pair of these (I live in an area that allows me to wear them year round), after a couple day break-in period these things mold to your feet and just get more and more comfortable.



They are super durable and the sizing is pretty true to normal shoe sizing.
I have had 3 pairs of these flip flops. They are very durable and comfortable. The bottle opener is a nice perk during desperate times as well ;)
I got a pair of these about 18 months ago. They run about 1/2 size big. I wear size 10 in all my other footwear but got 9.5 in these.
Although they are very comfy they are not very durable. The sole on both has started to fall apart & has become a trip hazard. I will not be buying another pair of Reefs.
Solid Flip Flop
Familiarity:

I gave it as a gift but have feedback to share
You really can't go wrong with this flip flop. It is comfortable and durable.
After reading all the reviews I figured I couldn't go wrong with these sandals and they haven't disappointed. Although, I was a little worried at first because they were a kinda tight, but after a few days use they are starting to loosen up.
I buy a new pair of flops every year and downgrade the previous pair as back up. Wearing these sandals consistently since 2005 and I still get a surprise reaction every time I use the opener!

I have tried different colors over the years and these have been the best color choice time over time. The light colors get banged up quickly. Drop these in your dishwasher for a quick zamboni.
Reef Fanning Sandal Review
This is a great leather sandal. They are really comfortable and the opener on the bottom is a bonus, My son was unable to find these and I located them on backcountry.com and ordered them for a gift. They came very quickly and he was really pleased.
I bought these for my boyfriend as a birthday gift and he loves them and has worn them everyday since. I'm glad I read the other reviews though b/c he wears a 10.5W and I bought these in a size 12.