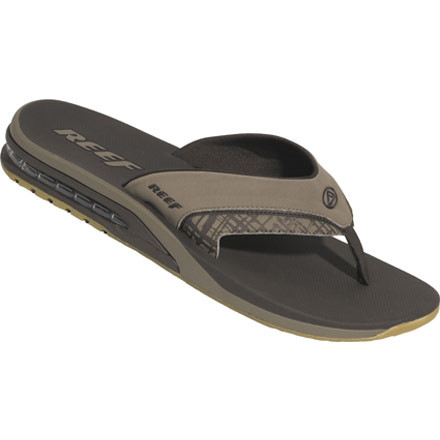 Detail Images
Share your thoughts
What do you think of the
Reef
Dram Sandal - Men's
? Share a...
reef dram sandal, no good
they fell apart in months the plastic gets brittle and cracks. They are comfy to rock but do not funktion.
hey do you have the reef dram sandal in...
hey do you have the reef dram sandal in size 11?
whatever they have in the drop down menu is a live inventory and all they have
ok they are really comfortable and supportive, but dont keep em for more tha a few months cuz they soak up all the smell from ur feet and shoot it back 10 fold! they stink! literally, and the whole water resevour leaks all over the place so if you want ur fav beverage then youll have to lick it off the floor or drink it out of a can/bottle/cup like a normal person
Feelin the buzz wear off after waiting to get into the stadium? These make it so easy to get those extra couple shots in the second quarter to keep ya goin'.
My husband loves these flip flops. Says they are teh most comfortable ones he ever had. I want to order 2 more pair but the price has gone up. Can I still get them for the same price I paid?
These sandals are suuuuper comfy! again..don't hold much liquid wise, and mine started to leak a little after running to a football game with them. I usually wear a size 10.5 and went up to the 11, they fit perfectly
Wicked Sandals! all kinds of comfortable only wish was that reservior was a touch bigger. Not bad for a nice nip in the mornin headin to work though. Overall very impressed
I bought a pair of these last summer and one shoe leaked. They are the most comfortable flip flops I have ever owned! I just bought another pair a few weeks ago and hopefully they have improved the reservoir.
Comfortable, don't hold much.
Very comfortable to wear, but they don't hold much liquid, if that's what you're wanting. Filled both one time; went to ball game; poured out one; the other was empty. Cap was sealed tight. Did it leak from there of elsewhere? Buy as a pair of sandals only.
Not As Good...Not As Good
A+ on comfort, D- on durability. I bought these because i enjoyed the Fannings so much, but i was very irritated that after two days from the car to the dock to the boat in Lake Powell that these bad boys were cracked and useless. Anyone know if they have a warranty?
DAMN GOOD FOOT GEAR! I GOT MYSELF A PAIR AND LOVED EM, SO I PICKED UP A PAIR FOR MY COUSIN TOO!
These flops are nice, they went straight to mexico and didn't come off for 9 days without any debris entering the cuervo flask area on both the left and the right! very comfortable and the idea was appreciated by all!
Referencing "Totally Ridiculous", I got them too and love them. I went to their site, e-mailed customer service that I needed a replacement screw -on Beverage Cap and they sent them to me for free. Now, that is very cool. Is there a reason NOT to get a pair of these amazingly cool and incredibly comfortable kick-back machines? I can't think of one.
I like the sandals. The bladder for beverages is a good idea, but it makes for a slightly awkward walking surface and I punctured the bladder the second day when I stepped on a nail. That's not the shoes' fault, but I will stick with the Nick Fanning with the air cushion from now on.
So they're really comfortable, which is the important part, but they're also pretty strange. When people find out what they're secret is, they always look at me strangely.

Beware the church-key. It stripped the socket on one of the caps as I didn't insert it far enough before turning. Metal on plastic does not mix well.
Not only are they comfortable, but the flask on the bottom is ingenious. It even has measures on the bottom of the sandal which is awesome. I highly recommend these for anyone who wants a comfortable sandal and a definite conversation starter.
OK, So you think about drinking out of the bottom of your flip flops and I agree, EW!!! This is a very novel Item, but the best part is the comfort, they are A1 class in the comfort level of Reef sandals. With the locking cap you don't have to worry about getting the ants drunk on the sidewalk from a leaky flask. Yes I will use them for some good ol Sailor Jerry. Don't think about the fact of shoe to mouth, think of Inspector smart and his shoe phone, this is way better. Pour from your shoe to your favorite mixed drink for an extra boost when in states like Utah.