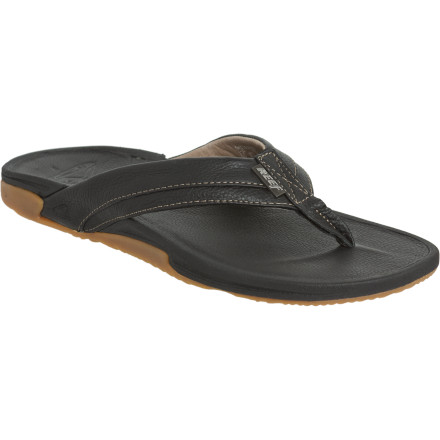 The boardwalk is long and the weather is perfect, so slip on the Reef Arch-1 Sandal and stroll comfortably for hours after you match the adjustable arch support system to match your foot. A turn with the included key tunes this sandal's midsole to better match your foot's arch shape. Then you can wander the sandy shore with supported steps while the classic leather design completes your rugged summer look.
ISA L.I.T.E. leather upper and soft footbed are sourced in a way that lowers environmental impact
Both the cushioning EVA midsole and grippy, Reef-patterned outsole are partially made with recycled materials to reduce the impact on the planet
A smooth pigskin strap lining feels great after hours of walking
What do you think about this product?
Have questions about this product?
Premium sandal, ?ber comfy
I ordered these after having a pair of Rainbows for 6 years that were wearing thin. These fit just perfect, narrow enough for me (I have narrow-medium feet) to keep my foot secured if I wanted to get active. I pumped up the arch support all the way, and it's easily more comfy than some tennis shoes! The brown leather is actually a little darker than the product image. Also note, since it's authentic leather, it shows scuffs. Classy sandal, made to last. Noobs need not apply.
the sandals are very good looking - nice enough to wear with dress pants. they are also amazingly comfortable. the leather is very soft and you can dial in the perfect fit with the adjustable arch.
Looking for a wide (4E) beach sandal that...
Looking for a wide (4E) beach sandal that will support my plantar facilitis condition.
Hey Martin,

Unfortunately I don't think we're going to have any sandals that fit that wide. Your best bet on our site is probably going to be KEEN.