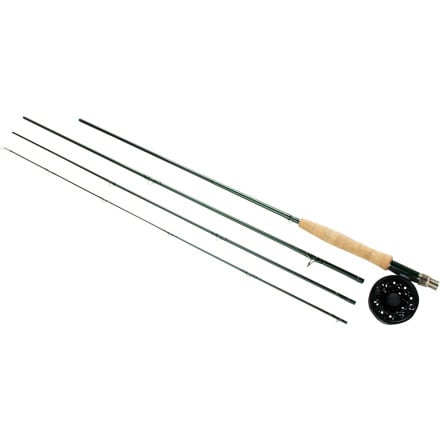 Description
A versatile, fast-action rod and quality reel for all water and fisheries.
After parking your vehicle at the river trailhead, you pull out the Redington Torrent Fly Rod & Surge Reel Outfit With Case, gather your fly boxes, pull on your waders and wading boots, and begin the short trek down to the river. Ideal for all angler levels, this versatile fly rod features a smooth, fast action, four-piece configuration and a plethora of quality components. The included zippered cloth hard case help protect the rod and reel in transit. Available in a 4 or 5 weight with a reverse half wells handle or an 8 weight with a full wells and fighting butt, the Torrent supplies versatile action for all water and fisheries.
In case that wasn't enough, Redington equipped this sweet package with a Surge reel for improved performance. A full aluminum frame and spool are combined with a graphite composite drag housing and an industrial strength drag surface which ensures you're ready for the toughest of fish. Its large arbor design provides easier and quicker line retrieval, an you can also easily convert the Surge to right- or left-hand retrieve. An included cloth reel bag helps protect the life of your reel when not in use.
Versatile setup for all angler levels
Smooth, fast action
Four-piece configuration
54 and 42 million modulus fibers with premium Toray Graphite
PacBay chrome snake guides and PacBay Hi alloy ring (hard aluminum oxide)
4-5wt models offer carbon fiber reel seat insert and 8wt model has an anodized aluminum reel seat
Portuguese cork grip
Conifer green blank with bright green trim and alignment dots
Zippered cloth hard case
Handle A (reverse half wells) 9ft 4,5wt
Handle B (full wells with fighting butt) 9ft 8wt
Aluminum reel frame and spool
Large arbor design
Converts to right/left hand retrieval
Includes cloth reel bag