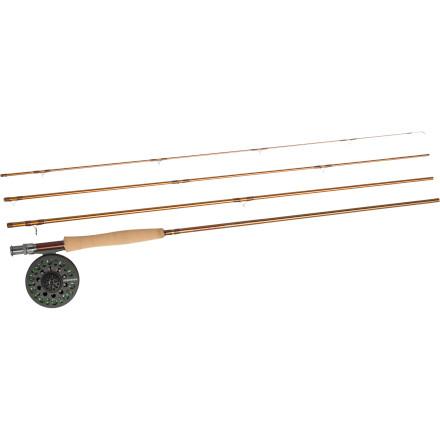 Community Images
New to fly fishing? Save yourself the hassle of piecing together your own kit from resale shops and grandpappy's garage and instead set yourself up with the Redington Pursuit Complete 4-Piece Outfit. This fast-action starters kit features everything you need to tie on your favorite fly and get it dancing out on the water.
Fast-action 4-, 5-, and 6-wt rod models are designed to throw lightweight lines and excel with flies that attract small- and medium-sized fish (best for fishing small streams, hidden lakes, small rivers, and estuaries)
Fast-action 8- and 9-wt rod options throw heavier lines and excel with flies that attract medium- to large-sized fish (best for fishing bigger rivers, lakes, and larger bodies of water)
Rod's durable anodized aluminum reel seat works well for both fresh and saltwater applications
Alignment dots allow for easy blank assembly and sighting in the field
Pursuit Reel features a durable aluminum frame and an easy-change spool system for quick transitions between fly line (additional spools sold separately)
Modern disc-drag system delivers impressive stopping power
Reel easily converts between right- and left-hand retrieve
Reel comes pre-spooled with corresponding RIO Mainstream WF fly line, leader, and tippet so that you're ready to fish right away
Included rod and reel case houses your rod during transport and storage
Note: flies sold separately
Perfect to learn on
Familiarity:

I've put it through the wringer
Got this as I suddenly had an urge to learn fly fishing. I can't same I'm good at it or that I even know what I'm doing, but I do enjoy it. I have accidentally flung the rod into the river, dropped it on the rocks, released it while I was mid cast, run into numerous things with it( I forget about the length) and this rod has not cracked or snapped on me! I've hooked fish to big for this weight and it's bent her but she held up nicely. Maybe next season I will finally figure out all the technics but for now I like that I can beat this rod up and it hasn't broken.
Great Starter
Familiarity:

I've put it through the wringer
I use these rods for guiding. They take a beating but still keep working great! Every time I make a few cast with one in between clients I am pleasantly surprised with the quality. It does everything pretty well. It can toss heavy double nymph rigs down to small dries with a pretty decent accuracy. You loose a lot of power on the long range side of things, but they load up at a short distance which is key when you are starting out. quality package.
Killer starter rig
Familiarity:

I've used it several times
So I have fly fished a little bit for years with my step dad and his buddies and finally got my own rig, couldnt be happier with this setup. The rod and reel come ready to use right out of the box, and the case included is surprisingly high quality, great material and sturdy feeling zipper. I went with the 4 weight size and it was great for using on small to mid sized streams and rivers, had a good smooth action in the reel and the rod flung my flies long and I felt like I had plenty of control with the cast. I would definitely recommend this for beginner fly fisherman (or women) looking for a great first setup
Can you send me a left handed combo?
Can you send me a left handed combo?
You should be able to switch the retrieve on the reel between left and right fairly easily. Let us know if you have any other questions!
What an incredible setup for beginners. I am new to fly fishing, and upon receiving this, All I needed to get out and get a fish on the line were flies and a friend. It could not get any easier to start fishing. Best part is that it comes with a great case and easy set up, making it a viable companion for backpacking out to some of the surrounding mountain lakes! I am sold, easily the best way to start fly fishing for beginners.
Just fished my Redington Pursuit Complete 4-Piece Outfit and I'm writing this review as a total beginner, so full disclosure I may not be able to speak with much expertise. As a Backcountry employee, I was trying to decide whether to go all in and pick up the best gear out there or to start out with something basic. Advice varied greatly amongst my flyfishing coworkers, but I'm really glad I went for the Pursuit kit. It comes basically ready to fish - just tied some tippet on and had a bounce rig set up in a few minutes. From the time I unboxed this package, I had a fish on the end of my line in about an hour. While I can't compare to a nicer setup, I found this one very easy to use and it saved me a lot of hassle in going to get my line put on and such. The guy who has been helping me learn is fishing on a Bass Pro rod and reel and he catches more fish than many of the gear nuts around here who started out with a Sage One (which, by all accounts is a great rod - don't get me wrong). This package is a step up in quality from what you'll find at the $150 price point, and I'm sure that once I advance it will remain in my quiver for a long time to come.
Reddington Pursuit Combo in Action