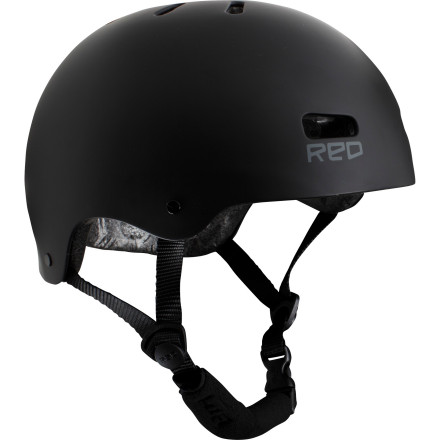 Taking a cue from skateboard helmet style but adding a new level of winterized customization, the RED Trace Raw Helmet crosses over from season to season while looking the part of both. The Trace's ventilation system can be plugged with NoAir vent plugs to block cold air and moisture on those frigid or dumping days. Removable Quick Clip ear pads and goggle gasket allow for the Trace to be your skate helmet too.
Goggle Gasket fills in any potential gaps between your goggles and your helmet
Removable ear pads and goggle clip provide a means for summer usage and easy washing
Gloves On Buckle means you can undo and position your chin strap without freezing your fingers off
Injected ABS shell for added durability
Compatible with REDphones Audio systems (sold separately)
Share your thoughts
What do you think of the
Red
Trace Raw Helmet
? Share a...
comes without any ear flaps or pads on the inside to provide a comfortable and safe fit. seems like it it's just as dangerous to wear this helmet as it is to not wear a helmet at all. the only thing on the inside is extremely ahrd styrofoam. don't buy this is if you want to live, or keep a loved one alive. way to go burton.
If you take the ear pads out of the regular...
If you take the ear pads out of the regular Trace helmet, does it essentially become the Trace Raw? Or is there more distinctive differences?
Hi Matt,

Essentially. As well as removing the padding inside the shell.
Got a Red Helmet and loved it until I got a concussion last season. Not saying that you won't ever get a concussion if you put on a helmet, but it seems like there should be some specs listed on the actual safety the Red helmet provides. Because of that, I look at helmet brands that mention how much protection they offer...seems kinda important in a helmet.
I'm looking to have a helmet with no liner...
I'm looking to have a helmet with no liner just the shell and wear beanie and goggles underneath. I wear a 7 1/2" hat would I be better with the Trace Raw Size M/L or with the Trace Regular Size L. Has anyone tried on the Raw and the Regular do they have the same size shell I confused as to how they offer this M/L size on the Raw..

Help greatly appreciated
Does the trace raw still have slots to put earpads in if you want to later?
The m/l works with my 7 3/8 head with a thick beanie on. It's still kinda big. The xl is huge.