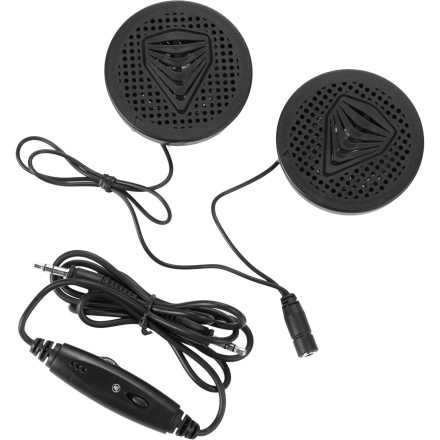 Your Red Helmet is already badass. Crank the smooth-ometer to 11 with Redphones. These 40mm drivers give you full sound with easy pop-in-pop-out compatibility with your Red helmet. Easy access volume and mute controls right on the cord makes it easy to dial down the tunes while your buddy tells you what a badass run you just took, and you can crank them right back up as soon as you hear the word 'but.'

Unanswered Question
is it possible to get a replacement cord...
is it possible to get a replacement cord for inside the helmet


I've had these out for a few days on the mountain now and they're perfect for what I need. I was actually surprised that the sound quality is at the level it is. The volume rocker on the wire helps when you're on the lift if you don't feel like pausing.

The only concern I had was if the cord would be long enough to get down to my pocket but it's the perfect length; just long enough to give enough slack to move properly (for reference I'm about 5'9").

Definitely recommend these.
ive had mine for a month and they're great. loud enough and nice sound quality
Worked great the first day.. but..
I got a Red helmet along with Redphones for Christmas and I went up to Canada for a snowboarding trip. The first day - we got a lot of snowfall and the Redphones worked great. Once we hit the second day, I started having issues. The Aux cable that connects to the MP3 was somehow damaged and won't work unless the cable is only half way in. If i push it all the way in, they stop working. My only guess is that it's maybe water damage within the controller?

Either way, awesome quality sound, but poor quality build if a little snow is enough to ruin the whole cable.
Killer sounds for riding
Gender:

Male

Familiarity:

I've used it several times
I bought these expecting the sound would likely be a bit 'tinny' - totally wrong. The sound is excellent and way more comfortable for all day use than sticking earbuds under your helmet. I paired these with a $19 mini amplifier (Fiio e5) and this provides more than enough volume to drown out wind noise while riding. Also, I use a Smith Holt helmet and found these to be compatible after removing a small amount of foam padding from the ear-covers in the helmet. The final set up is BOSS - blasting Digweed all day while cruising the hill.
Unanswered Question
Will these fit in the ear piece slots on...
Will these fit in the ear piece slots on the Pro Tec Riot?
Unanswered Question
Are these compatible with the Mutiny...
Are these compatible with the Mutiny helmet?