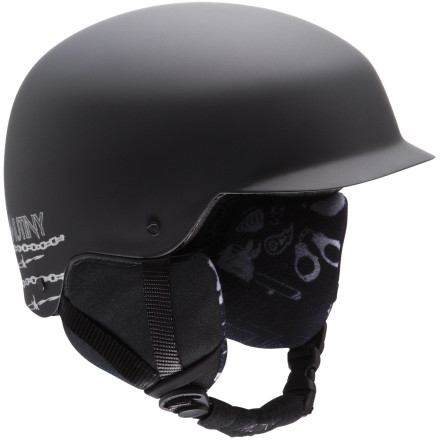 Tight fit Poor Audio Connection
The ear flap pieces fall out often and the audio is horrible. The audio port is super sensitive when it attaches to the helmet and just rolling it around and moving it makes the audio go in and out. I would not waste any money on the audio version of this helmet. Also it fits small i had a RED skycap and then a RED Hifi and in both mediums fit great. The Mutiny fits tight in a medium and sneezes my ears and gives me a headache. Bottom Line fine another helmet!
The Mutiny is a great helmet, I'd give it a 5/5 anyday... I've worn it for quite a few years.

My boyfriend bought the Mutiny Audio and by the 2nd day wearing it one speaker was shorting out. Thinking it was just his, I went and bought one myself... and also had some shorting out issues. Also, the mute button is easily pressed by your jacket when your bundled up on cold days.

But when they ARE working, they do sound good, and the volume control on the cord is very useful.
alright im a pretty good snowboarder who...
alright im a pretty good snowboarder who goes big quite often.but i need a helmt that will give me good protection in case i wipe out on my 9's.. would this b a good fit?
hey can any1 tell me if some oakley cro-bars...
hey can any1 tell me if some oakley cro-bars would fit w/ this helmet?
yup they should unless you've got a real small dome and helmet.
does anyone know wat size the earphone...
does anyone know wat size the earphone jack thing is? i lost the cable while snowboarding and i need to buy another one and i cant find one anywhere....
Call Burton Rider Services at (800) 881-3138. They changed the audio system this year. I know last year's was a standard size plug that could be used in any audio device. However, the piece that connects to the headphones is different. Burton might make you send the helmet back in order for you to get the cable, but you also might get a new helmet out of the deal, and this year's are better. :) I hope this helps.
Can someone describe the headphone controls...
Can someone describe the headphone controls on this helmet? Is there a push button on the side to mute? Any info would be helpful.Thanks,Scottie
on the left earpad or right earpad there is a button which mutes the sound and unmutes sound after another push
*Continued from last review*
Just bought a pair of Smith I/Os to go with this helm. They fit perfectly, and airflow is decent.
I got this helm for my bday and i think its dope. its warm dosent slide around, perfect fit, has built in speakers, and it fits my electric eg5 goggle, and its a good helm for anyone.
I bought this helmet, because I didnt like the way a XL bern made my head look like a mushroom (i got a big noggin).
Overall I'm impressed with this helmet, but there are a couple things that could be better. The earpieces do push into my ears making it slightly uncomfortable, but not a big issue. I usually ride with earbuds for audio but I'll give them a shot. Also, MAKE SURE to try this helmet on with a pair of goggles before buying either, the visor makes fit a bit harder to get right, but I've found that Dragon Maces, any Anon, or Electric eg2s and spy soldiers fit well with minimal gaper gap.