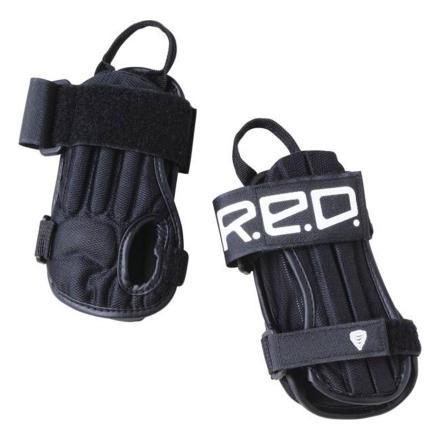 I've worn them for a few seasons
Familiarity:

I've put it through the wringer
I wear these wrist guards everytime I ride and all day. They're not bulky and super stiff. Personally for me they are perfect and give the right amount of support and have saved my wrist so many times.
Good overall wrist guards. Saved my wrist a few times and I like these are not stiff but flex w/your hands. Very small compared to others, only the strap around the wrist is large. Recommended!!!
, ☃bcs_badge_alumni_label☃
A Broken Wrist Sucks!
From what I've read, broken wrists are the most common injury in snowboarding since most people tend to put their arms out to brace themselves when the catch an edge and fall. While they can be uncomfortable and a little bulky under your gloves, they aren't as uncomfortable as a cast for 6-8 weeks and no riding while the snow is falling.

My Father-in-law is an Orthopedic surgeon and suggest these to anyone that is looking for wrist guards. The design is minimal, but still provides the support you need and doesn't just redirect the energy up your arm and break that instead like some other designs out there.

These did save me from a broken wrist a few seasons ago. I was going through a tree run at Brighton that I wasn't familiar with and all of a sudden the trees got really tight and I had no wear to go. I turned heelside as hard as I could, put my arms out to try to break the force of hitting a tree. While the crash was pretty gnarly, I rode away with only a sprained wrist. The Wrist Guard completely shattered, but it did it's job. It redirected the energy away from my wrist and after a week or so I was fine and didn't end up in a cast.

Like I said, they are a little bulky, a bit uncomfortable but after several days of rocking them you get used to it and you don't even think about them. Plus, if you're like my wife and your hands are always cold they add some insulation as well and keep your hands that much warmer.
First time i got on a board i broke my...
First time i got on a board i broke my wrist, and have broken my right one twice and left wrist once. my Q is how big are these gaurds? i have a new pair of dakine gore-tex gloves and there pretty snug.
These are super low profile and comfortable for a wrist guard! But, they are still wrist guards ...so you do need a tiny bit of room inside your glove to fit them. I have had to wear them before and fit them under a pair of AK gloves, which are generally considered to be a pretty tight fitting set.

You should be all good as long as you can wiggle some fingers up into your glove on either side of your wrist when one is on your hand.

Good luck, and no more broken wrists! Those are no fun! believe me, I know :)