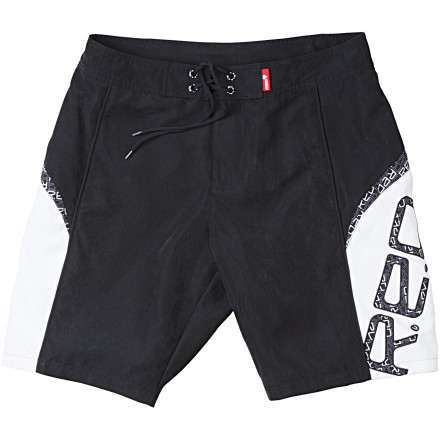 Detail Images
Save your Ass
Familiarity:

I've put it through the wringer
A border spends the majority of the time their not standing and riding; sitting down,waiting for slow friends or picking yourself back up. Wether you go big or little, the insulation pays for itself in the first day. No to mention how badly rails hurt when you bang them against your hips
I bought a size large cause I'm about a 30-32 inch waist in jeans. Your gonna want to buy a size smaller for your size. They fit me a little big even with the draw string pulled tight. They're gonna work fine I think, but just fyi, they fit a little big. Shred the pow!
I just picked up two pair of large. Nice light breathable fabric, pads are all completely removable which is an awesome feature I love. (can use all pads or commute with none/butt or hike with none) I thought they'd be a bigger. They fit very nicely without pads off the bike (shorts end just above the knee off the bike only half way down the thigh riding that's without pads) tight with pads very tight aroundd the thighs. If I were to re-get I'd do XL and hope for the best.The top pad protected more of my back than my tailbone as is.At $13 on steep and cheap I don't regret the buy but wasn't what I was looking for.
These have padding in 3 places. Butt, hip, and outside femur. I wear these as "just in case" shorts when mt biking. If you know that there is a good chance you are going to crash..get something better. If you "may" wipe out..these are for you. Very stylish and nobody knows you have pads. The pads do "float" some as Chad said. I bought a pair, fell in love and then got 2 more pairs. I wear a 36 pant and the L fits great.
Unanswered Question
, ☃bcs_badge_alumni_label☃
Does anyone have detail images for these...
Does anyone have detail images for these shorts? Where does the padding go? What does it look like? What type of foam is the foam? Thankfully Chad's review gives a little more info....
The shorts are meant to look somewhat baggy and they do. Hip, thigh and tailbone padding. Well placed but kinda loose. They should have built the padding on the inner liner. The sizing is really weird. Talks about extended etc. There is nothing to extend. They tie and fit like a board short. I wear a 34 waist and got a M and they're a bit snug but I imagine the pads would be all over the place in a large. Keeping the M for me!!
I used these shorts last year, they look and feel more like a bathing suit than impact shorts, I liked them, but I now have the Basic Impact shorts, which stay in place way better, and have much better padding.