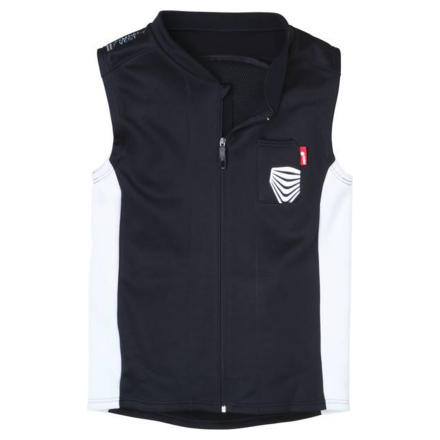 The removable spine armor of the RED Men's Impact LS2 Vest quietly rides along for grab-your-nuts-and-spill-your-guts-type assaults or on any part of the mountain. This stealthy back padding slips in under your jacket or jersey to provide ample protection to your torso. Welcome chilly days of charging with the added warmth of a microfleece lining and your MP3 player pumping a blazing soundtrack from its dedicated pocket. A pair of Flexfit belts keep the Impact secure in case a botched landing readjusts everything you're wearing.
Share your thoughts
What do you think of the
Red
Impact Vest - Men's - 09/10
? Share a...
Posted on
I'm new to snowbording and it's painful...but...
I'm new to snowbording and it's painful...but fun!!! Is this vest something that's worth it for just normal down hill runs or is it more for people doing tricks in snow parks?? Thanks

~MJW
Responded on
You'll get pretty hot wearing this and as far as safety it isn't very likely you'll need this vest nor will it do much unless you're falling on things that will hurt a lot like a rail, pipe, or something else made out of wood or plexiglass. Otherwise, invest in a good helmet(I have the R.E.D. HiFi and its been great so far. Definitely get a helmet.
Responded on
You said you were new to the sport and just learning, I don't think this is a product that is a necessity at the moment. If you see yourself dropping cliffs and running shoots, then it could be a sound investment. Look at the kind of riding you eventually would like to get into. Because it is on sale, you can't go to wrong.
Responded on
Forget what the other guy said about impact gear only being for drops and tricks or whatever. I would look at what type of resort you are snowboarding in. Where I live there is not a steady flow of snow, so many times we're just snowboarding on ice with a shallow layer of powder on top. I broke my L3 vertebrae in a fluke going off a small ramp that I hit all the time in the park. I landed just right with my backbone on a patch of ice. Spending the rest of the season (12 weeks) with a broken back and losing a ton of money off work. Not to mention $1000 plus on medical bills. I would highly recommend some time of padding for back, helmet, wrist guards, and tailbone/impact shorts if you snowboard regularly on mostly icy terrain. I'm personally eying the red impact waistcoat, or maybe something similar. If you are just learning something like this would probably suffice. Once you get into jumps I'd move up to a hard shell back protection even. Just my 2 cents, speaking from experience.