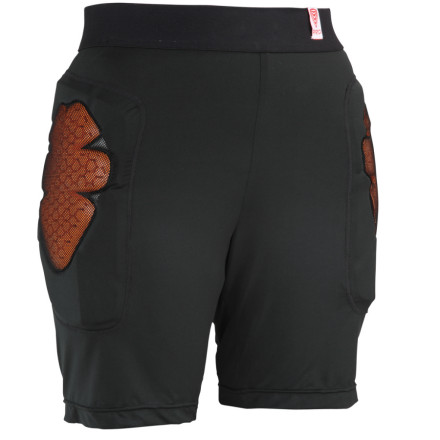 Slide on the RED Women's Impact Base Layer Short before you head up the mountain so you have the guts to take some laps through the park. Integrated into the hips and tailbone of this moisture-wicking, breathable mesh short are pads made of RED's CE Certified d3o Shock Impact Material, which absorbs the brunt of your falls without feeling like bulky body armor. This true women's-specific-fit short stays put thanks to an elastic waistband just in case you let your board slide out while jibbing a box.
I bought these shorts for when I go to the park. While the park was closed when we went boarding these still worked well. I am 5'6" and 105 lbs and I wear an XS. They first felt a bit strange because my pants are insulated with nice warm fleece and I usually only wear a pair of Under Armour heat gear compression shorts or cold leggings and these did not fit much different, once I got on the mountain I could not tell that they were there. I would recommend these shorts to anyone who wants to avoid getting banged up when trying stupid stuff.
tooo thin for snowboard learners. returned and purchased 'hillbilly' brand full impact shorts. unisex but does a great job. fell on the hills yesterday and no bruising, just a slight pain to touch.
Padding a little thick....
These are good padded shorts, especially if you're looking for extra-thick padding. It's a little hard to tell from the picture, but the areas where there's a snowflake are thickly padded - hips and derriere.

I ultimately decided to go with something that seemed to have as much protection with a lower, less lumpy profile.
I'm looking for something like this to...
I'm looking for something like this to wear while I'm learning...would this product be good? or any other suggestions?

Also, how bulky are these under your gear?
If I normally wear small pants, would I need to wear a medium?

Thanks for your help.
This are great, not only when you are learning. They are pretty slim, but if you wear super skinny pants then you may want to size up. If you pants are normal fitting smalls, you should be ok. They protect you butt from all the impact but don't restrict your movement.
What is the difference between Base Layer...
What is the difference between Base Layer and Total Impact? Does the Base Layer have the 2 d3o pads on the back side like the Total Impact does? I cannot find a photo of the back.
The base layer product has eva foam for padding, no d30 product. That is the bonus of the total impact product.