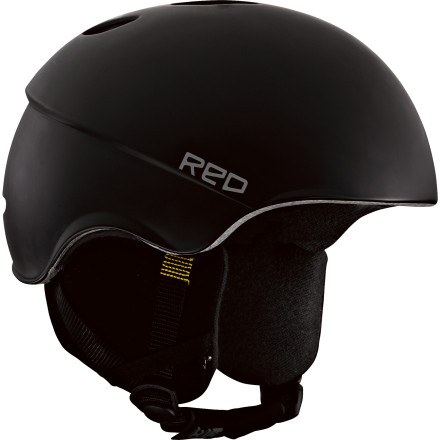 RED engineers looked towards the brain's natural defense against head impacts when they created the one-of-a-kind MIPS shell-and-liner system that's built into the Hi-Fi MIPS Helmet. This system allows the outer shell of your helmet to slide over the inner liner when the helmet is struck at an angle. This rotational movement drastically reduces the rotational impact to your brain, thus keeping you safer when you suddenly take a slam while snowboarding. A host of other features make the Hi-Fi even more appealing, but MIPS is the true differentiator between this lid and every other winter helmet you're going to find.
MIPS Technology uses a layer of low-friction material between the helmet liner and the liner shell—when the helmet is hit with an angled blow, this low-friction layer allows the shell to slide over the liner, thus reducing the rotational violence and impact on the brain
In-Mold helmet construction bonds internal padding directly to a polycarbonate shell which creates a lightweight and highly effective package
Long-haired, silky fleece liner offers additional warmth for charging in cold conditions
Vent mesh is a system that uses mesh-backed vents on the top and back of this helmet to cool your head
Airband Fit System is an air-filled headband that contours to the fit of your head as you either add or remove air from the system using a small, integrated pump button or release valve
Fleece lining on the Airband headband adds comfort and warmth
Quick Clip ear pads snap in and out of the helmet so you can use the pads for extra warmth in the winter and take the pads out for the summer
REDphones technology allows you to slide a pair of RED modular drivers (speakers, sold separately) in the ear pad area to create a secure and fully integrated audio system
What do you think about this product?
Have questions about this product?
New Red Hi-Fi MIPS Helmet wonderful!
Used my new Red Hi-Fi MIPS helmet for our Christmas snowboarding vacation at Breck. Worked wonderfully! Light and, surprisingly, warm. The ear pads keep your ears very warm, but make it difficult to hear conversation on the lift up. Just ask 'em to speak up! Would recommend this helmet highly.