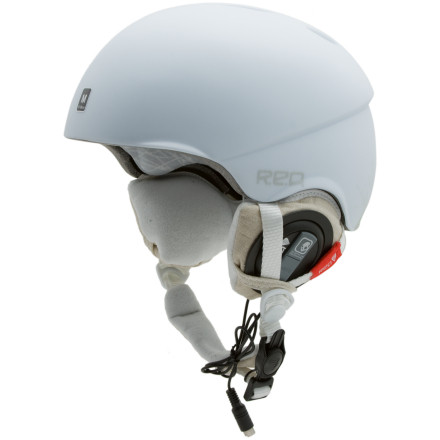 Detail Images

Community Images
am i able to buy the batterey attachment...
am i able to buy the batterey attachment with the ipod jack? havent been able to find it!
For this helmet, I would contact Skull Candy. This was a collaboration with them. They should have the part. Backcountry doesn't sell that part anymore.
Hurts my ears, but otherwise great!
I wasn't really looking for an mp3 playing helmet, but this one was the best price at the time so I bought it. It keeps your head warm, and I do feel much more confident with something to protect my head. There also isn't a gap with my Scott goggles.

The only complaint I have about this product is that the subwoofer ear pads do end up hurting my ears a lot after 4 hours of snowboarding. They feel fine up until then though. Well that, and my head looks slightly like a bowling ball, but that couldn't have been helped.
Best audio helmet on the market
between my boyfriend and I, we have 4 Red Hifi Subwoofer helmets. I love the Red Hifi because it is light weight and form fitting, if you have been skiing/riding without a helmet, try this out, once you put it on, it doesn't even feel much like wearing a helmet! Not to mention the subwoofer system is rocking, bass adjustment, if you have any tunes with heavy bass, the system will seriously shake your jaws, sound quality is clear. Just a reminder, it can be very loud, the guy sitting next to you on the chair will definitely hear your music.

only down side is that the connector of the subwoofer can get loose easily, and unlike the 1st generation Red Hifi helmet, the amount of vent windows are lower only has 5, so if you do sweat a lot, this helmet may be too hot for you during hiking.
Its plastic, has some padding and some vents. If you hit your head, itll cusion you. Not really thrilled with this helmet, kinda tall and heavy in my opinion.
I just got my helmet in the mail and am pretty happy with it. It fits fine (although the earpads do squish my ears quite a bit) and my mp3 player hooks up to it seamlessly. I was amazed at how quickly Backcountry sent it - I ordered it late at night on Monday and I received my shipment on Wednesday!
are these gunna fit well with crowbar...
are these gunna fit well with crowbar goggles
Best Answer
Yes, they will fit awesome with Crowbars! They help even comes with a goggle gasket to reduce any "gaper gap" ... but the goggles will fit pretty seamless so you won't need it.
are these gunna fit well with crowbar...
are these gunna fit well with crowbar goggles
RED helmets are made to fit the best with Anon goggles. Those two will have the best fit. With that said, you can run other goggles just fine. The crowbars are great because the strap sticks out a bit away from the goggle, this helps a lot.
does this fit well with eletric EG.5s?
does this fit well with eletric EG.5s?
For sure! They will tuck inside the shell lip of the helmet nicely without giving you a crazy gaper gap!

Do you wear your goggle strap over your helmet or under? If you wear it under you may have a lil' more of a challenge with the ears flaring as the EG.5's straps mount to the exterior of the Electric frame. If over style, your dialed!
Unanswered Question
Can anybody answer these questions for...
Can anybody answer these questions for me?
1) Do oakley wisdoms fit on these bad boys?
2) I have a Mutiny helmet in medium, but its just a tad too big... should i get the small hi-fi?
what type of mp3s can this thing hook up...
what type of mp3s can this thing hook up to
anything with a headphone jack
Quick Clip II/Quick Clip II (2)
on the left is previous years eapad clip, on the right is this years (current model, on the page)...this years is much much easier to remove, on last years models i always felt like i was breaking the helmet everytime i wanted to remove the earpads!...now its just a clean easy pull.
Unlike its opposite, this control is actually very very useful. Press the mute button down with a little pressure and music will mute untill you let it go. Press it down all the way and it acts as a toggle switch (mute on/off)...is semi-easy to operate with gloves on but you will need to memorize exactly where the button is.
I already have a Hi-Fi and am thoroughly convinced its the best helmet ever, warm, comfortable, and lots of coverage. I already have the skullcrusher headphones and they are the best headphones ever made my man, big booming bass and clear highs and mids. Why did it take me so long to get this perfect fusion? I have no clue

there are some problems however, this is the redesigned Hi-Fi, it looks but does not feel or fit like previous years!...thats important people, because the fit is significantly smaller, about a half size (so if you are between sizes or plan on wearing a beanie under then order a size up), it also fits a lot narrower than pervious Hi-Fis

another problem that results form this is that the subwoofer earpads are NOT BACKWARDS COMPATIBLE with previous years hi-fis, which sucks because thats what I got it for!!! ahhhhhh!

but now for the good parts; improvements from last years hi fi are that the earpads are much easier to remove, the brow doesnt go as ridiculously far down your forehead so I cant fit more goggles (larger goggles), and I feel it fits better...as for the subwoofer, is amazing, sound is so great and theres a 2 stage mute button!...put a little pressure on it to mute the sound till you release it, or press it down all the way to mute the music completely and then press it again to get your tunes back. that will be so nice for the lift rides volume control does not work and both cannot be operated effectively with gloves on. the earpads are also surprisingly comfortable.

the original Hi-Fi was perfect, now with a few tweaks its even more perfect, grab one to rattle your ears and protect your dome and you wont be sorry

(p.s. black color is matte black not polished as the picture shows)
I already have a Hi-Fi and am thoroughly convinced its the best helmet ever, warm, comfortable, and lots of coverage. I already have the skullcrusher headphones and they are the best headphones ever made my man, big booming bass and clear highs and mids. Why did it take me so long to get this perfect fusion? I have no clue

there are some problems however, this is the redesigned Hi-Fi, it looks but does not feel or fit like previous years!...thats important people, because the fit is significantly smaller, about a half size (so if you are between sizes or plan on wearing a beanie under then order a size up), it also fits a lot narrower than pervious Hi-Fis

another problem that results form this is that the subwoofer earpads are NOT BACKWARDS COMPATIBLE with previous years hi-fis, which sucks because thats what I got it for!!! ahhhhhh!

but now for the good parts; improvements from last years hi fi are that the earpads are much easier to remove, the brow doesnt go as ridiculously far down your forehead so I cant fit more goggles (larger goggles), and I feel it fits better...as for the subwoofer, is amazing, sound is so great and theres a 2 stage mute button!...put a little pressure on it to mute the sound till you release it, or press it down all the way to mute the music completely and then press it again to get your tunes back. that will be so nice for the lift rides volume control does not work and both cannot be operated effectively with gloves on. the earpads are also surprisingly comfortable.

the original Hi-Fi was perfect, now with a few tweaks its even more perfect, grab one to rattle your ears and protect your dome and you wont be sorry

(p.s. black color is matte black not polished as the picture shows)