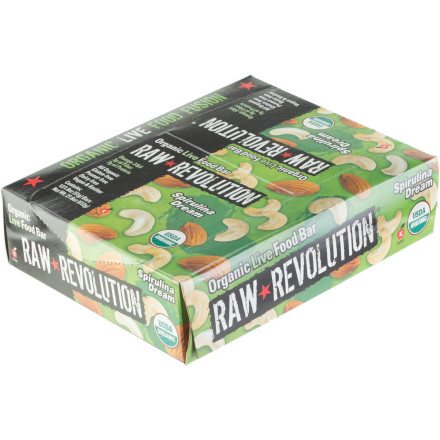 Detail Images

Community Images
If you friends haven't tasted a Raw Revolution Organic Food Bar, they might not understand that these delicious little energy nuggets taste nothing like those chalky bars you typically dread eating. And, if they're confused about how good these are, they might refuse if you offer them one. That means you get to be polite, and you don't actually have to share.

All ingredients are organic so you don't have to worry about creepy chemicals
Everything in these bars is vegan—you're welcome, animals
Raw ingredients mean the nutritional awesomeness stays intact
Twelve bars in a box means you'll be able to refuel over and over
tastes a lot better than it looks. I would eat the spirulina dream again.
A good bar to replace with the old ones.
Familiarity:

I've used it several times
I loved the Clif bars but they got old fast. The flavors are great and the texture isn't dry like some gluten products may be to me. Love and so does my lit'l guy, as I've found, missing some from my bag.
pretty tasty
Familiarity:

I've used it several times
I have tried a few flavors and have enjoyed them all. In the never ending quest to find a bar that I can eat over and over these are now in my current rotation. Playing in the mountains a few days a week means that I burned out on cliff bars years ago, Pro bars are great but bulky. Raw Revolution is a nice change of pace, and I actually feel like i'm eating something healthy which is nice compared to several other major players in the science food market. Highly recommended.
Not my video but remembered seeing one of the classic icons of the Wasatch repping Raw Revolution.
Delicious
Familiarity:

I've put it through the wringer
We got a couple packs of these to pass out around the office and these things saved my day several times. Not only are the delicious, they are pretty filling as well. I'm going to snag a couple boxes for easy breakfasts.
Guilt Free
Familiarity:

I've used it once or twice and have initial impressions
Someone tossed me a bar. I did not ask any questions and quickly inhaled this delicious treat. I then found out that these bars are organic, vegan, vegetarian! I was blown away by their level of commitment to health-focused food bars. I would highly recommend tossing a few in each pack.
Small Bar, Big Flavor!
Familiarity:

I've used it once or twice and have initial impressions
I was thoroughly surprised when taking my first bite of the Chunky Peanut Butter Chocolate flavor of this bar. Upon first sight, it looks like another chalk dry, bland bar but its definitely a step above the rest in terms of taste. It wasnt dry by any means, it even had some pockets of gooey peanut buttery goodness. I'm not much of a nutritionist, so I won't even try to give my two cents there. My only gripe is that a single bar is only 46 grams. At $1.89 for a bar that size, its not up my alley. But everyone is different! The ingredients seem legit, so it looks like you get what you pay for. Check it out for yourself!
Very filling.
Familiarity:

I've put it through the wringer
One bar will definitely satisfy, two will fill you up! They are hearty and digest well. I have a very sensitive system, and these are great! And no grains! My preferred flavor is the Spirulina Dream. I also like the chocolate cherry's liquor flavor. The hazelnut chocolate is good, but I can only eat one at a time. They are really filling. None of the ones I have tried are incredibly sweet, which is good because they don't make me crave more than I actually need. I've been practically living on these for two days, now. I feel great. I've been climbing and running like normal, and have the same energy level as I do with "normal" meals. Awesome for gluten and oat free diets!!
Gluten Free Option
Familiarity:

I've used it several times
Spirulina Dream, it tastes good! Gluten Free!
Abso-freakin-lutely Love these!
Familiarity:

I've put it through the wringer
I am doing this new vegan thing with the wife and these are perfect for the morning commute in the morning or for a late night snack. They have plenty of raw ingredients to keep any health conscious person at bay. If health is your thing, then you need to try these out. I have had a few flavors, they are all delectable. I will not be happy until I have a case of each of these!
I really like the chocolat coconut bliss flavor -- great texture, sweetness and flavor combination. The Heavenly Hazelnut, on the other hand, is pretty bland. These are great for snacks and likely the healthiest bars I have ever seen. I have used them during workouts as well and had pretty good success.