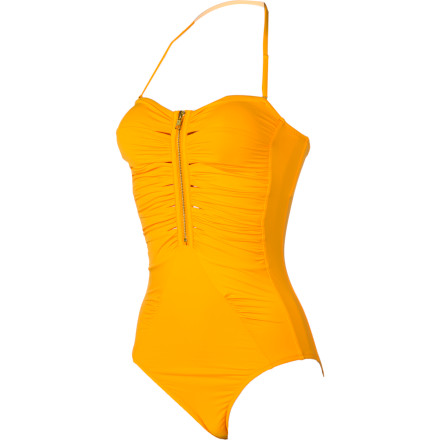 Detail Images
What do you think about this product?
Have questions about this product?
Great looking! with enough coverage
I bought this swimming suit for my daughter. Partly because it was modest (enough coverage of her nakedness), and also because its design is nice looking. Well, my daughter has used it twice since I bought it, and she LOVES IT. It fits her well and the citrus color looks awesome against her dark skin (she gets her brown skin from me, her Peruvian dad). Anyway, we only have one complaint (hence the 4 stars) : the zipper in the front presents a potential for disaster if it comes undone. Though it has never happened, my daughter has expressed fear of that happening, so perhaps is more a psychological fear than real. Anyway, the materials are great and a little safety pin puts my daughter's mind at ease when jumping from the high jumping board at our local pool. She recommends it.