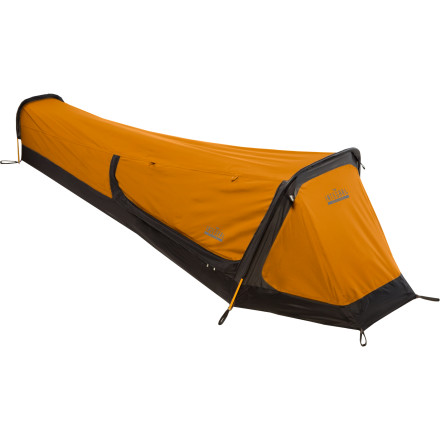 If sleeping in a glorified body bag doesn't feel right, you can pitch the weatherproof Rab Ridge Master Nestor Bivy and get the space you desire without carrying the weight of a tent while backpacking or climbing. This tunnel-like bivy keeps the showers off and your claustrophobia at bay, and uses two poles to provide a comfortable 23.6-inch ceiling. A large mesh window and breathable fabric provide ventilation during summer backpacking trips while the long length provides a little room to keep your boots and pack dry during overnight storms.
Three-layer waterproof breathable eVent fabric, fully taped seams, and a tough, waterproof-coated bathtub floor protect you from blowing rain and snow
Two DAC Pressfit 8.5mm poles easily slide into external sleeves to provide a wind-resistant shelter that's easy to set up by yourself
One side door enables easy entry-exit and features an internal mesh door to provide additional ventilation and bug protection during muggy nights
Extra-long tunnel design provides ample interior space (23.6in height, 100.4in length) for you, your sleeping bag, your pack, and your hiking boots
At just over two pounds, this bivy provides overnight protection with minimal weight for climbing or ultralight backpacking
Tie-down loops let you stake down the bivy for extra resilience in windy storms
Included stuff sack protects the bivy and shrinks it down to a 11.8 x 6.3in package for easy storage in a pack or haul bag
I really like this bivy!
Familiarity:

I've used it several times
I have used this bivy from the 50s down to freezing and had no condensation issues, I kept the door rolled open as there was no rain, but you can stake the door out for a mini vestibule if the wind isn't blowing rain inside. I'm 5'9" tall and was able to fit my pack (ula ohm) inside at the head and using a neoair full length still had a little room to spare. I much prefer the side entry for getting in and out, compared to having to try and wriggle in from the top on other bivys. I'm not sure how it will be in warmer temperatures because it does help to hold some heat in. The olive color is very inconspicuous and its low to the ground so its ideal for stealth camping. Its easy and quick to set up, weight is 40oz on my scale with everything included.
At Rab we use eVent waterproof fabrics in some of our core shell products. These products, such as the classic Latok Alpine Jacket, are specifically designed for use in the harshest and wettest environments in the world.



These fabrics are extremely hard-wearing and durable, however they combine a range of unique technical features which allow for high levels of moisture movement and breathability. With these benefits, you can wear eVent waterproof products for fast moving activities without overheating.
Bivy benefits without the claustrophobia
Gender:

Male

Familiarity:

I've used it once or twice and have initial impressions
Purchased this bivy as a lighter weight alternative to my 1-man Alps tent. This is about 1/2 the weight. Recent use in the Sawtooth Range, ID, camping at about 10,000ft. Clear days and nights that dropped into the 30's. Haven't tried it in the rain yet.



Pros:

Incredibly light weight for a tent at two pounds; disappears inside my pack. Very good breathability. Contrary to the others, I didn't have any condensation in the morning, even with temps in the 30's. I could feel the tent breathing as I laid there, which is a first in tents for me. Also, I was warmer than I have ever been at those temps than with my normal 1-man tent. Love the long zipper that allows me to easily squirm inside, but it does require a shimmy down to grab the end of the zipper and tent to be able to zip it back up. I chose the olive color and it is dark enough inside for sleeping in late.



Neutrals:

There is no vestibule, so you need a pack cover. There was enough room in the bivy to stash my boots above my head, but I am 5'9". If I was over 6' that might get tight. If you are claustrophobic, this still might be too tight for you. The tent sits about 6" above your face when you are laying down on a 2.5" inflatable pad. I had enough of width at 175lbs and a 34" waist. I was able to side sleep without discomfort. Bigger people should try before buying since it is a slim footprint.



Cons:

I would hate to spend an extended period of time during a rainstorm or blizzard in it since you are laying on your back with no window above. This bivy is for sleeping, not for spending a day unless you really don't get stir crazy. I knew that was a tradeoff when buying it for ultralight backpacking, though. At least the awning design allows for looking out with rain protection if you have no other choice. If I knew it was going to rain, and I had to shave weight from a standard tent, I'd probably spare a few ounces so I could pack a tarp to act as a vestibule for sitting and cooking.



Tradeoff
It is a 3-season bivy
Gender:

Female

Familiarity:

I've put it through the wringer
I just finished the GR20 using this (Corsica France). I went in June, so there was still a lot of snow around and one night it made it below 32F (0C). I agree with the other reviewers - lots of condensation. It's a pity as its lightweight and packs up quite small. My sleeping bag was bigger and heavier than this bivy. Drying a tent out on a trek isn't easy, so basically everything inside was wet by the end. That being said, when the temps were above 40F, it was perfect. It can be pitched anywhere and it did hold up to a number of good warm rain storms. It's great for warm-weather treks. I'd also add, I'm 6'1" and 160 pounds (tall/thin). I found that I could put quite a bit in the bivy, stuffing it around me. It was a tight fit but not uncomfortably so.
couple of things
Gender:

Male

Familiarity:

I've used it several times
i really hope this helps, i bought this to save a pound or so in my pack and some bulk, granted it was very cold and windy but its hard to get in and out of from side,no visibility above you when inside, not to bash it, but i was expecting less condensation as well, it got down to 12 the first night, got wet, and never really dried the rest of my trek.the first time i set it up before i left, the foot pole snapped in two(thankfully at home). that said with one email, eqipuk,the usa rab people had me another with in days,they did a great job.moral= use a tent or a bivey, while this is in between, its not enough to make a difference. hope this helps yall...ps.i put i used it several times, but it was on 1 long backpack trip and after the first night....not by choice lol
Not suited for 4 season.
Familiarity:

I've used it once or twice and have initial impressions
I bought this for 4 season use thinking that the large opening would provide enough ventilation to reduce condensation. I was wrong. At 20 deg temps with the opening totally open I still got a lot of condensation. This would be a good choice for 3 season use but the tight confinement for cold weather use will get your bag wet no matter what. Other than that the bivy is well constructed. I don't like that its not free standing and to get it to set up you need to steak it down in at least 6 places. Time consuming.
Would an Exped UL Synmat 7 LW be too wide...
Would an Exped UL Synmat 7 LW be too wide for the foot of this bivy?
The Exped UL Synmat 7 LW will not be able to fit in the Rab Ridge Master Nestor Bivy very well and I wouldn't suggest using it. I would recommend checking out some of the tapered pads carried by companies like Big Agnes that conform better to the dimensions of a bivy tent.
Will sleeping pads fit inside this bivy?...
Will sleeping pads fit inside this bivy? I'm very concerned about the 15.7" foot width and the linear taper shape of the floor will have trouble accomodating even a regular size NeoAir or Xtherm.
This bivy will not fit most sleeping pads and those that fit will be snug, but it can be done. I would recommend checking out Big Agnes as they have a wide variety of tapered sleeping pads. It may force you to be a little creative but hopefully the nights of comfort will pay off.
I don't understand how it would not fit an Xtherm, but I do not own it (I do own an Xtherm). The Xtherm is 20" wide at widest and is tapered. The Ridge Master length posted here is wrong, I believe. On Rab's site, it is listed as 110" (and I've seen it a few other places). If you keep the mattress at the top and leave the space at the bottom (either 28" or 38" to spare - depending on actual length of Ridge Master), you should not have any problem. Probably worst case scenario (and I strongly doubt it), would be that you have 1-2" roll-up of your pad on the sides. Keep in mind, I do not own this...