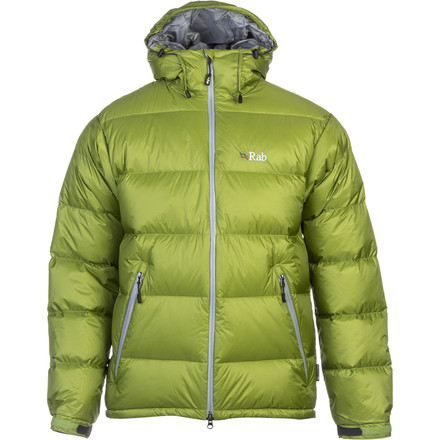 Detail Images

Community Images
Description
The Endurance gets you through the coldest mountain storms.
Laugh in the face of savage sub-zero temperatures and scoff at vicious white-outs thanks to the supreme warmth of the Rab Men's Neutrino Endurance Down Jacket. An outer shell of Pertex Endurance fabric wards off the weather while 800-fill hydrophobic goose down holds in vital warmth without packing out thanks to a stitch-through baffle construction. Despite it's massive warmth and medium-length cut, this packable jacket stuffs down small inside the included stuff sack so your already-bursting expedition pack won't blow a seam.
Shape the wired peak of the down-filled hood to keep the sun, whipping wind, and snow out of your face
An internal down-filled baffle behind the main zipper blocks cold at the chest
Adjustable hook-and-loop cuffs cinch securely around your leather gloves, and a hem drawcord locks out deep snow
What is the warmest Rab down jacket? Would you recommend a jacket other than the Rab for wind and warmth? I'm planning a winter expedition in Alaska and am prone to the cold. Thanks in advance.
Best Answer
Stephanie, it depends on what you intend to use the jacket for while in AK. Is this the piece of insulation you intend to be moving in all the time? Or are you looking for a jacket that is more of a belay parka, and for times when you are moving very slowly in really cold temperatures? Really cold temperatures to me is anything below -10F, could be different for you. What expedition are you doing in AK? Sorry for all the questions, its hard to make blind recommendations though. Here is what I can tell you,



Their warmest jacket is http://www.backcountry.com/rab-andes-down-jacket-mens?. Its not as warm as the Mountain Hardwear Absolute Down or Marmot 8000m jacket but, its pretty close. This jacket would be used for belaying, hanging out around camp on really cold days, possibly to be worn on your summit day depending on temps and speed of the group.



Another jacket from them is http://www.backcountry.com/rab-microlight-alpine-down-jacket-mens?. This would be a more versatile piece. You could possibly wear it while hiking, and around camp if its warmer out. Its also much lighter so if you know the temps are going to stay higher you can forgo the big belay parka and just bring this jacket along.



The Neutrino Endurance fits in the middle of the spectrum. Microlight being on the light end, and the Rab Andes being on the heavy duty end. On an expedition in AK, I brought 3 pieces of insulating jackets. 1 very light down, 1 light synthetic, and then a big belay parka. That gave me a lot of options and seemed to do the trick. Didnt wear the belay parka all that much but, we did get stuck in the tent for 3 days and it was -30F out, totally necessary.



If you have anymore questions feel free to send me an email or call!



Bill Porreca

bporreca@backcountry.com

801-736-6398
Best jacket ever!
Familiarity:

I've used it several times

Fit:

Runs small
Initially I bought a rab neutrino endurance for my wife's birthday as she is always cold no matter what the temperature is. She has loved it so much that she has bought me one for my birthday. We live in the south so it is definitely an overkill for the climate but for the days it is cold, jacket is perfect. I have tested it with while driving around 45mph with hand sticking though an open window at around 30 degree Fahrenheit temp, and I did not feel cold at all. Anyhow, 6 months and 2 more rab's later (we got two more for my parents who came to visit from Europe) I am looking to hear the reviews from them and how did the jacket show in European winter temperatures. I can say however that both my wife and I spend quite a bit of money on clothes, and this jacket is definitely within top 5 clothing articles I have ever gotten in my life. Only problematic part is the sizing, I am 5-8, 185 and I got a medium which fits well, however since everyone in my office has tried it, it fits the 6-1 guys as well only they are skinnier than me. All in all, get this jacket, you will not make a mistake!
Hi there, is the Smoke colour as silver as it appears on this page, or is it more grey?
take more photos jackets in this color!

I want to see it on the man.

thank!
In the early days, Rab Carrington built his brand around down insulation, and we still see down manufacturing as a core part of the Rab brand today.



All of our down insulated products are filled with the highest quality Hydrophobic Down, developed in conjunction with Nikwax. The hydrophobic treatment is applied at source and is seen as the next step in our progression in down manufacturing.
Sweet Jacket
Familiarity:

I've used it several times

Fit:

True to size
Super cozy. I'm a huge fan of its packability, and how light it is, but, sometimes it just doesn't seem as warm as it should. I use this for a parka in my touring setup, and really for anything else where a warm puffy parka is applicable.

The rollable hood is cool, but they could have done better. I guess a minimalist approach to hood storage is a good choice though.

The zipper is backwards, IMO. It zips as a women's would. It can be a bit finicky for myself to get that situated when my fingers are cold and numb, but without too much worry.

For the price, I'm a bit worried about it's durability, but that's probably just me worrying about tearing an expensive jacket.

Love it though!
Does the job
Familiarity:

I've used it several times

Fit:

True to size
This packs down small enough to go into my pack for every winter trip. It is warm enough to keep me happy for all but the coldest ice belays - for the really cold ones, something bigger can be nice.



Right now it's about six months old and still seems highly water resistant. I used it as a belay jacket with no shell during heavy wet snowfall the other day, and it shed the precip just great. I haven't gotten it wet enough to test the water resistance of the down treatment.



The zipper can be fiddly though.
The Beluga color looks like a softer black shade than the black selection, is that correct or is it a really dark blue?



Thanks
Best Answer
I have the Beluga; it does not appear at all blue to my eye.
In the Neutrino Endurance, the Beluga is essentially a softer shade of black, as you described. Beluga is an often used color name for Rab, and represents shades of gray that can vary from a light gray to near black depending on the piece.
Hi, I'm trying to decide between the RAB Neutrino endurance and the Infiniti endurance. What is the major difference? Does the Infiniti have a hood store away like the neutrino? The Infiniti has 850 at a little lighter fill than the 800 neutrino...are they comparable warmth?



Thanks
Best Answer
There are a few key differences between the Neutrino Endurance and the Infinity Endurance jackets.



Weight: The Infinity Endurance is going to be about 3 ounces lighter than the Neutrino Endurance.



Fabrics: The Neutrino Endurance jacket uses a Pertex Endurance fabric for the entire outer material. The Infinity Endurance uses a combination of the Pertex Quantum GL fabric and the Pertex Endurance fabric. Pertex Endurance is used on top of the shoulders, on top of the arms and at the cuffs for added weather resistance and durability. The coating on the different materials in the Infinity Endurance is what often confuses people - both the Pertex Quantum GL and the Pertex Endurance outer fabrics have been coated with the Pertex Endurance treatment. This adds weather resistance to the Pertex Quantum GL fabric, while maintaining the lightweight properties of the material.



Fit: The cut on the Infinity Endurance is going to be slightly shorter than the cut on the Neutrino Endurance.



Down: The Infinity Endurance utilizes an 850 FP European Goose Down, as opposed to the 800 FP European Goose Down that the Neutrino Endurance uses. That being said, you get more quantity of down in the Neutrino Endurance jacket, at 8 ounces worth of down in size Large, as opposed to the 7 ounces of down you receive in a size Large Infinity Endurance. Both jackets use a fluorocarbon free Hydrophobic Down developed in conjunction with Nikwax.



Features: The Infinity Endurance has elasticated cuffs and a zipped external chest pocket, while the Neutrino Endurance has velcro cuffs and only an internal chest pocket.



Hope this helps!
the hug of warm comfort parka
Familiarity:

I've used it several times

Fit:

Runs small
such a great design. weather proof on the outside and super soft inner. perfect for cold belays or bar hopping on a chilly night. I used it recently ice climbing in vail and then walking around Breck later that night. I'm usually a medium but have the large... It's over kill in most situations like if you live on the west coast...except for maybe on the summit of Rainier in winter.
Crossover jacket
Familiarity:

I've used it once or twice and have initial impressions

Fit:

True to size
I tried this jacket, and returned it. I'll lay out why:



It's a crossover jacket. It's not comparable to the Arcteryx Thorium AR, Cerium SL, MH Ghost Whisperer, because it's much heavier, more loft, waterproof/resistant PU coated shell layer. It has waterproof zippers, and a big hood that fits fine with a helmet. So it's a belay jacket, right? Heavy but amazingly warm?



Nope, it's not baffled, just sewn through. It's more of an active cut than a parka cut. It doesn't have a double zipper to unzip a big from the bottom for a harness (if you really needed that). And I guess if I have a real belay jacket, its under a big shell in the wet, or I'll wear it stand alone in the dry, and all the extra features aren't needed.



I was annoyed by cheesy velcro bits to adjust the brim of the hood, and a strap at the back of your neck that's supposed to bundle the hood into a collar. I was also not a fan of the wire brim hood when I have so many other hoods that work fine without it.



So maybe you want a crossover between a midlayer and belay down puffy? SUPER midlayer or lighter duty, wetter weather belay? I didn't.



Fit was pretty good - I'm 185, 5'11", ~40 chest, 33 waist.
troubles with the zipper
Familiarity:

I've used it several times

Fit:

True to size
I really want to 100% like this jacket, but the zipper is sometimes a pain to use. It gets stuck and you have to make an extra effort to align both sides of the zipper, I can spend several seconds trying to do that before actually zip it all the way up.



I tried this jacket at 30F and it kept me warm, however, with strong wind, it is better to put on a windshield, otherwise, you'll feel a bit cold.
Good but too expensive
Familiarity:

I've used it several times

Fit:

True to size
I live in anchorage ak, I'm 5'11 165lbs athletic build. I bought a medium and a large. The large fits great with just enough room to layer. I purchased this coat after going through 3 other down coats, made by top brands, and all 3 ripped within a month of purchase. I then sought out a coat that had more of a durable outer shell fabric, still pack able, and warm enough for AK. It was between this coat and the feathered friends volant. I ruled out the volant due to its style mostly, and I think it was a little more coat than I needed. I have only had this coat for one month, November , and have not been able to expose it to the real test. However I have exposed it to temperatures around 20 degrees f , rain, and light snow. The outer layer seems to shed water well and be more durable than my other coats . It's very comfortable, and has a nice style. Cons: spendy. There are many coats on the market with similar features ( although not as durable) for half this price. I don't think this coat is as warm as all the reviews claim. I have gotten chilly in it around 25 degrees ( without layering underneath). The zipper sucks.



Bottom line: good coat, expensive, would recommend to someone looking for a durable down coat.
Hello! I'm planning to visit Canada during next January. Since I live in a warm weather country all year long I'm not used to cold temperatures. I will spend some time in the big cities but I'm thinking in doing the auroras boreales and I want a very warm jacket to use for both. What do you recommend? Thanks a lot
Yes, great jacket.. |I live in Kugluktuk Nu. Light jacket great for cities and good for the high arctic, warm plus nice looking.
What is the difference between the Neutrino Plus and the Neutrino Endurance jackets?
Best Answer
Great question as they're both great jackets.



There are four main differences.



-First being the fill weight of 275 grams for the Plus vs 225 grams for the Endurance and both have 800 pure Hydrophobic European goose down.



-The second is the torso length which the Plus is a bit longer in the torso vs the Endurance. The extra length will allow for better core-body insulation.



-The third is the Plus has a baffled boxed wall construction vs a sewn through boxed wall construction for the Endurance. The sewn through allows for some heat to escape on the Endurance.



-Fourth is the Plus has articulated elbows which allow for more freedom of movement.



*I'm not sure why the Plus is only showing a 1 year warranty as Rab products all have a lifetime warranty.



Hope this helps you out and enjoy a warm winter with a Rab Down Jacket. If you need more info or help give one of the BC Gearheads a call at 800-409-4502.



Scooter
I'm heading to northern Scandinavia next January and need a really warm jacket/parka mainly for walking tours. I'm 6'5" tall, 40" chest, 37" arm, athletic like guy. What model and size would you recommend? I normally use size L. My biggest concern is the sleeve's length. Thank you! Arturo
Best Answer
Size up in Rab. It's a british cut which tends to be narrow chest/shoulders, straight through the waist and longer arms.

I'm normally a S/M in men's outerwear and I got the medium win the Neutrino plus. Even with the medium, I halfway considered a Large for layering. Your normal size will be snug and athletic, but something this puffy benefits from a little extra room to layer under.
Curious as to the main difference between the latest Infinity jacket and the Neutrino Endurance? From what I can see, they share similar fill type and weights, and both sport sewn-thru baffle construction?

I have the Neutrino and am thus far pleased with it-but I am curious about the above?
Best Answer
The Infinity is a lighter jacket and uses a 10 D Nylon compared to the Endurance which uses 30 D Nylon, so the Endurance is a bit more durable but 3 ounces heavier. The Endurance also uses a hydrophobic down so if it gets wet it will hold its loft a bit better and dry a lot quicker.
Bill is right. Also the Neutrino is a longer cut and the infinity has higher quality of down. Basically the inifinity is designed for those shedding ounces at all turns while the endurance is a little more forgiving in both environmental and treatment cases.
I'm looking for a jacket for around-town use. It should be super warm, when cold, but wearable above 0°C, too. That means I want to stay toasty in the morning at the bus stop, but also wearing my jacket the same day while going back home (when you won't need such a warm jacket, but it is to cold to go without any). I just want to wear a T-Shirt or light Sweatshirt under it, so I would like to know whether this one would be the right choice? Can anyone tell something about the temperature range for using it? (I know it's quite subjective, but just to have a clue)

Thank you!
Hey Roland!



This jacket is a really warm, durable jacket that is going to be a great piece for active winter pursuits. It will be good as a belay parka, will work well for ice climbing, mountaineering, ski touring, winter camping or most anything else you plan on doing in the cold. It also would make for a great around town jacket in the winter and would definitely work for what you are looking for. If you have any other questions, you can contact me at 1-800-409-4502 ext 4446 or email at gconner@backcountry.com
I am 5'8 185!!! wondering if the lg would be the way to go. Also trying to decide whether to go with this jacket or the Arcteryx Thorium????
Best Answer
We try not to suggest sizes by height and weight since there are so many other factors that will affect how that jacket fits. Torso length, sleeve length and chest measurement are the best ways to find a good fit.



As for the Neutrino vs the Thorium, it depends on what you plan to use it for. The Neutrino is a heavier, fully down insulated piece white the Thorium is a lighter weight hybrid of synthetic and down fill. If you plan on using it in a dry, cold environment, then I'd suggest the Neutrino but if you will primarily be using it in a wetter, more mild temperatures like you'd find on the west coast the Thorium. Those jackets are vastly different even though they are both puffy insulated pieces.
Hey Bob give me a shout if you want to get some nitty gritty details on these down jackets. We will find one that works for you.



Eric Watford

Expert Gearhead

ewatford@backcountry.com

800-409-4502

Ext. 6069

Instagram: @ericwatford
Is this jacket going to be warm enough?...
Is this jacket going to be warm enough? I'm really drawn to this jacket because of the price & weight, but I'm nervous it is not going to be warm enough. I'm looking for a jacket to use on the prezi traverse & Mt. Washington in the winter, where it could get down to -30F with windchill. I'd obviously have layers on underneath this, not just a fleece, but if anyone has experience it would be very helpful.
Despite being "fairly" water resistant,...
Despite being "fairly" water resistant, in extended wet conditions is this possible to wear a shell over this jacket comfortably? Or it is too bulky for such a use case and is supposed to worn on top of other layers?
Best Answer
You could wear it under a shell, the shell just needs to be big enough. If you bought this in a large you may want to get the shell in an XL. I feel it would be pretty bulky though, I would definitely enjoy the jacket more wearing it over everything.