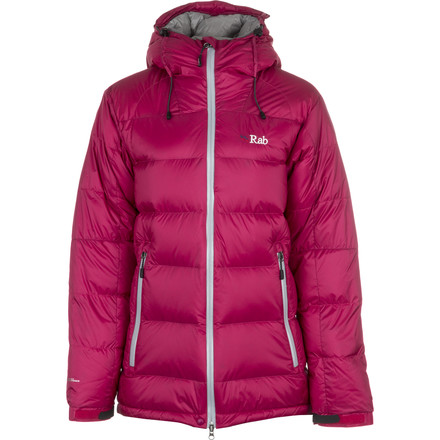 Detail Images

Community Images
When your winter ascent reaches a high, exposed ridge, zip up the Rab Women's Neutrino Plus Down Jacket for windproof coverage over your helmet and hindquarters. The thick, 800-fill goose down insulation holds in your body heat and the box wall baffle construction helps eliminate cold spots. A longer cut torso prevents drafts and the insulated, adjustable, helmet-compatible hood features a wired peak so it won't flap in the wind while you're traversing through the windy highcountry.
Tough, water-resistant fabric keeps you dry in a passing shower and in the constant blowing spindrift
Insulated storm flap and chin guard ensure the challenging weather stays out for good
Internal pockets hold goggles and other climbing essentials within reach
Super-lightweight design packs down small and stores in an included stuff sack
purely a size review
Familiarity:

I returned this product before using it

Fit:

True to size
I'm 5'6, 133, (35.5, 27.5, 38 over my medium wt baselayer). I was told Rab cuts slim, so being between sizes, I tried out M. Wrong. I'm drowning in this jacket: sleeves & body have tons of extra room & it reaches my mid-thigh.
RAB's size chart is accurate, but if you're between measurements, and not crazy tall, size down. They built in space for layers.
(If I were 5'10 w/ the same measurements, I'd definitely keep it)
Was skeptical but am a believer now.
Familiarity:

I've used it several times

Fit:

True to size
I have been a lifelong The North Face down jacket person. I still own three of them and wear them for various different activities. The reason I was looking for a new down jacket was my 8 year old TNF McMurdo was started to get a little bit ratty around the sleeve ends/cuffs and the pockets. Its also not a lightweight jacket, but quite weighty. I put that jacket on easily 5-10 times a day to walk our four dogs out through the fields, etc. I live in NW Penna along the Lake Erie snowbelt. I need warmth that will also stop the wind and stand up to wet snow. Sometimes I would overheat in the McMurdo if the dogs get to running ahead of me and I have to sprint to keep up. That's going to happen with most down coats, except the McMurdo really does weight a lot which made it worse.

I investigated just about every down jacket online I could find and settled on the Rab Neutrino Plus for one main reason; it was the only one that was as long in the back and the front as my TNF McMurdo parka. I need to keep the warmth in when just walking dogs out through fields and wanted the same coverage. I have used this jacket for almost two weeks now through very cold temps and snow and find it to be every bit as warm as TNF parka. It is much lighter and it did keep me dry yesterday through rain, sleet, snow, ice balls and back to huge snow flakes. I took it off and just hung it in the room with our woodstove and it dripped dry in just a few minutes. I am 5'6" weight 123 and ordered the Small. The sleeves are quite long but that is nice for coming down over gloves. I'm not sure about the hood yet as even with adjustment it seems to not tighten up enough on my head. I am used to TNF parka hood with fur that literally closed around my face. When I tighten the RAB hood all the way to the end there is still much play in the hood around my face. The inside of the neck area on this RAB jacket is very soft but doesn't seem to come up as high or tight as my TNF parka. If there were one complaint about this jacket that would be it. I usually end up wearing a scarf around that area any so as to pull it up over my nose so its not a deal breaker.

There is one odd thing about this jacket that I notice when I first step outdoors in the cold. Both front shoulder areas feel "chilly" as if the wind/cold is going through there. Once I get moving it is not noticeable. I normally wear a lightweight Nike Element run jacket as a layer under my down jackets and over a lightweight shirt. I did the same thing with this jacket and it fits nicely. I don't wear this layer when its around 25-30 without any wind as I will overheat quickly in this jacket. Around those temps this jacket with just a long sleeve t-shirt undernearth and I was very warm. I

I did have trouble getting the zipper started the first few days and it sometimes sticks on me but I think that has more to do with it being a two way zipper and the fact its a fairly long fronted jacket. You have to sort of bend over and pull the zipper in a bunch which might be why it doesn't start smoothly every time.

All in all I am extremely pleased with my purchase and would highly recommend this jacket.
Love it - very comfortable
Familiarity:

I've used it several times

Fit:

True to size
I bought this jacket for my daughter-in-law to keep her warm when she goes Ice Climbing. (not for the climbing but for the waiting time). She loved how warm she was and always raved about it. When visiting them in WY the temps were -30 and I ordered one for me ASAP.



It has a boxed construction and is very warm without making you look like a marshmallow. I am small - 5'6" 115 lbs and I got the small. It gives me enough room to easily wear something under it should I want. The length in the back easily covers my butt and yet isn't too long in the front to be bunchy in the car. The taped seams are great ..and I love that quality.



It is a straight cut but it doesn't make you look huge in it. If you are doing any real "exercise" unless it is brutally cold, this jacket would be a bit warm and I am a cold person. It is light weight but carries a lot of warmth.



The hood is great and I like that you can adjust the velcro to the place that you want it so that it isn't too far in your face depending on what you are doing. It also has a rigid hood ring, which I was unsure about but like very much.



Great cold winter jacket .. I could not be happier.
Amazing!
Gender:

Female

Familiarity:

I've used it several times

Fit:

True to size
So right after I purchased my Neutrino Plus my first time wearing it was on a-2F walk to work, and I went the long way (about 45min). This is absolutely the WARMEST thing I have ever worn. I started the walk in a sweater, Columbia fuzzy mid-layer, and the Neutrino Plus. Within five minutes I had to take off the mid-layer and made the rest of the walk with the Plus unzipped part way. Note too that this is not a rigorous walk, more of a long mellow stroll, so I can tell you the warmth was due to the jacket and not cardio!

Fit - The jacket felt a bit big in the body when I put it on, but the hips and shoulders are the right width, making it perfect for layering under without the worry of losing heat when not using much in the way of baselayers. This jacket is pretty straight cut, so don't expect to show off your curves. In terms of the torso width/arm length, I could probably could size down one, but then the hips would be too tight and I wouldn't have room to layer. Plus the arms are long enough, which is nice for us gangly folks!(5'7", 138lbs)

Bulk - To be honest, when I first tried the jacket on I was really worried it wouldn't be warm. I am amazed at how lightweight it feels, how easy it is to move, and how much it packs down. In my boyfriend's Mountain Hardwear puffy I feel like a fat marshmallow, but in this I feel like a normal human! Very packable, I think I'll invest in a small compression sack for backpacking though, as the included one is rather large.

Features - I'm OBSESSED with the hood - big enough for a helmet, but totally comfortable without one, plus the visor has a moldable frame, so it will hold whatever shape you want! Pockets are inside the down, so hands stay warm. Snap at the bottom of the main zipper allows you to belay through while keeping the jacket (mostly) closed. Jacket completely covers my butt - no drafts!

I'll update after more use! LOVE IT
From the pictures, this jacket actually looks like it is longer than the mens version. Would someone mind supplying the lengths of the jacket for a woman's medium versus a mens small? I'm not crazy about the colors, but the problem with a lot of mens down jackets is they hardly go past your belt line, and the pictures for the mens version of this seem to apply to that.
Bulky and not evenly filled
Familiarity:

I returned this product before using it

Fit:

Runs large
I was looking for a really warm down jacket, one that can stand negative temperatures easily and can be okay for both town and mountain. I first ordered the S and it was huge, I changed it for the XS and still was pretty big and the shape of the arms have a rather awkward shape, I thought I looked like a fat bat (5'4"/164cm, 101lbs/ 48.5kg). But those were minor problems, the real reason for me returning it is that it had an empty patch in one of the shoulders close to the back, there were no feathers at all and it look like no insulation in that area. That was very disappointing considering all the good reviews down here, but to me that empty patch was a killer. I think I'm getting the Fitz Roy Patagonia instead.
Surprised Me !
Familiarity:

I've used it several times

Fit:

True to size
I was pleasantly surprised on how light this coat truly was. The color was even better then online. Fits like a glove with enough room and without making look like a snowman. Many comments when I have worn it, and plan to bring it with for Bhutan !
Made my Minnesota winter bearable
Familiarity:

I've put it through the wringer

Fit:

True to size
This coat was my shield against -40 wind chills this past winter. My favorite features are the large insulated hood (no painful gusts ripping through my ears this season, large enough to accommodate a climbing helmet) and the lengthened back (cover's your butt!). I am around 5'11", 180, and I went with the XL so that I could wear layers. It is a true XL, and doesn't really accentuate any curves. It's not pretending to be a stylish city coat (along the lines of some of the Canada Goose women's range), but who cares when the warmth is unbeatable. If anything, you may actually overheat in this jacket on warmer days.
Best. Jacket. Ever.
Gender:

Female

Familiarity:

I've used it several times
I told my husband that I wanted the warmest jacket in the entire world for Christmas, and he delivered. I am a true Winter Wimp, always freezing & avoiding the outdoors as much as possible in the winter. This jacket makes it feel like a beautiful Spring day in 20 degree weather - no joke. The fit is great (I found it's true to size, if not running slightly large) and there seems to be virtually zero way for cold air to get inside. The hood is large but fitted & stays put. The pockets are deep but VERY warm. The arms are a tad long in length (I'm fairly tall too - 5'8") but that is easily remedied with the velcro closures at each wrist. There are closures & cinchers everywhere to keep the air out & warmth in. One detail worth mentioning is the jacket is not black, it's more of a very dark grey. Not a deal breaker for me, but maybe for some.



Truly, you will not regret purchasing this jacket. It's worth every penny.
Like wearing a sleeping bag
Familiarity:

I've used it several times

Fit:

Runs small
I got this jacket prior to climbing Mt Rainier because it seemed like the warmest thing out there and I have circulation problems. It rolls up decently small. Overall, it's massive. A smaller size would have been tighter around my middle and I wanted it loose for warmth. It comes nearly to my knees, and the pocket zips go very low so beware not to unzip all the way. When wearing this monster, it's like I'm wandering around camp in a sleeping bag. But I would not use it for active pursuits - this is a camp/rest time jacket, not an active layer. I am 5'4" and about 130 lbs and got a Medium.
Warmest
Gender:

Female

Familiarity:

I've put it through the wringer
This awesome jacket kept me warm most recently through a mountaineering trip this winter in The Sierras. It is great for climbing because it unzips both from top and bottom so that you can wear it conveniently with a harness. The hood also fits over a helmet. I am 5'10" and 155lb and use a size large because I needed the length on my arms. I am also, however, glad I got that size so I can layer underneath as well as get most out of the loft. I have never been cold wearing this jacket and strongly recommend it.
This thing is so warm that I had to take it off after a minute of wearing it in my apt, because I could feel my bodyheat building up. The length comes down about 2-3 in past my butt. The hood actually rolls up nicely with the stowage flap, and it also adjusts back well with the velcro on the hood. It cinches up really nice and easily around my face. This jacket feels warm enough that I could probably wear just a tee under it in 30F and stay toasty. It does ride up an inch or two when I raise my arms, but not such a biggie because of the length. The sleeves are nice an long too. The inner zipped pocket is about big enough for a phone or small camera, but no more. The inner mesh pocket is not firmly sewed into my jacket and is tearing off a little at one of it's top attachment corners. Overall a really nice jacket that has me looking forward to winter. Highly recommended when mega warmth is needed.
The following review is from a guy, but my wife loves her Neutrino too!
Definitely one of the best mid-weight down jackets on the market. I love the cut, weight, warmth, etc. I have an in-depth review with lots of pictures at http://www.gearthirty.blogspot.com/2012/02/rab-neutrino-down-jacket-review.html. I have also posted some pictures of my wife's neutrino endurance so women can get an idea of the fit. Keep in mind, the review and the pictures are of the Neutrino Endurance, NOT the Neutrino Plus, which is baffled, has slightly more down fill, and is about 5oz heavier.
This is the most deluxe down jacket out there. Super warm, lots of great features and the additional length is great for keeping the bum warm on short breaks in the backcountry. Obviously created by folks that know how to design and make a jacket that works in the alpine cold.

For anyone that gets cold easily this is the jacket for you. I get cold super fast due to a thyroid problem...but not anymore.