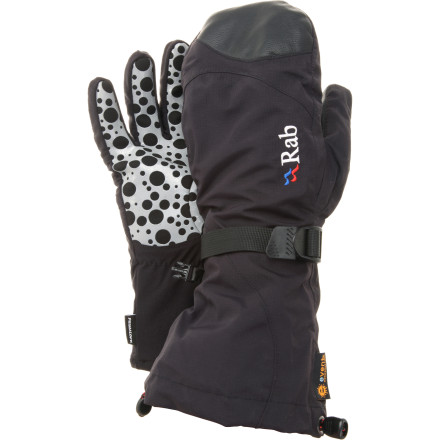 When warmth, function, and versatility are key, reach for the Rab Modular Mitten and forget about cold digits ruining your next alpine outing. The outer shell mitt is designed with an eVent waterproof breathable membrane to keep you dry and comfortable, and the removable liner glove locks in warmth and provides extra dexterity when you need to release the hounds.
Three-layer eVent fabric combines waterproof technology and industry-leading breathability to keep you dry and comfortable in extreme weather conditions—guaranteed
The outer mitten features a goat leather palm to secure a solid grip
The removable liner features softshell fabric for added mobility and PrimaLoft insulation on the back of the hand and palm to encases you in warmth
A silicon palm on the liner glove provides excellent grip when you need additional dexterity
Share your thoughts
What do you think of the
Rab
Modular Mitten
? Share a...
The best all around winter combo I have used in years
I recently began using RAB gloves last year, switching over from my go-to OR (just to try something different and problems with newer glove designs) and I am really digging the innovation. What was bothering me about OR is the BEEFY over-shells which are becoming thicker and thicker and decreasing the amount of dynamic movement that can be made with single digits. Older OR's left freedom of movement for most digit dynamics (the review below should check out OR they have more of what you described you want). Another problem I was having with OR's newer design was the fact that the material in the palm's of the shells were not as durable in nature as some of the past models and reduced flexability. The inserts were thinner and did not have the R-value you want in an insert. So I checked RAB out. What I like about these? The shell! I love the thickness of the shell material, still feels durable, but not too thick so you still have incredible flex. The palm material is nice and sticky and you can really grip onto anything your grabbing and it sticks (Rope, slings, packs, Ice tools, ice screws etc.....) The insert! It is not just a thin little insert, but it is a stand alone glove which has the full dynamics of a thin insert but an insulated thermal glove that keeps your hands warm and wicks the moisture away from the hand when sweating. The palmer surface (silicone) of this glove is amazing. It is so sticky I can't even describe it too you. Without gripping you could probably open palm a biner and it would stick to the surface. The event fabric of this shell is incredible. It keeps your hands waterproofed. I use these gloves for mountaineering, ice climbing and winter touring in tandem with my RAB down mitts depending on how cold and what it is I am doing. All in all this is the best winter combo I have ever owned and for the moment am solely using RAB hand-wear products until I find something I like better. Check out the price points as well, If this was an OR glove the name alone would make this a $180 + glove so for now RAB is a bargain glove manufacturer (this is a cheap glove for what your getting). Of course this is all personal preference and some people may really like OR for the qualities I don't like them for. I guess that makes for a healthy competition.
A little more expensive than I'm used to spending on handwear, but this is a very nice pair of modular mittens. Great for a wide variety of mid range temps- 10 F with glove and mitt up to the mitt alone in 50 F rain storms. I'd like it if the insulation was a bit heavier on the glove, but you can tell why they didn't- dexterity is great and adding more wouldn't help. These mitts are an awesome compromise. They're easy to take on and off, and the two-lock shock cord setup for the gauntlets is perfect.

The fit on these is great, at least for me. I've got regular men's size hands and usually wear a Large glove or mitten. Problem is, on a lot of brands I find the fingers to be a bit long, reducing dexterity or making it hard to secure the gloves. The Scots must have stubbier fingers, as these are just right.