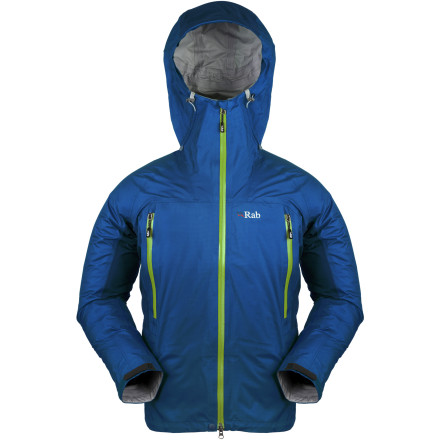 Detail Images

Community Images
The Rab Men's Latok Alpine Jacket is a mountain-ready shell that has you ready for alpine climbs in all kinds of weather. Wear this jacket by itself for warm-weather climbing, or wear it over an insulating midlayer when the temperature drops.
The 3-layer eVent shell fabric seals out all forms of moisture without that dreaded plastic-bag feeling
Fully taped seams keeps water from moving in through the stiching
Aqua-guard zippers keep your pockets and innards dry
At Rab we use eVent waterproof fabrics in some of our core shell products. These products, such as the classic Latok Alpine Jacket, are specifically designed for use in the harshest and wettest environments in the world.



These fabrics are extremely hard-wearing and durable, however they combine a range of unique technical features which allow for high levels of moisture movement and breathability. With these benefits, you can wear eVent waterproof products for fast moving activities without overheating.
excellent jacket
Familiarity:

I've used it several times

Fit:

True to size
in rainy cold days, I pack it everywhere, light but strong to resist wind and rain. I love the color also, low tone but also attractive, for the size I use a S, 5'7 150 pound.
The only rain jacket you really need
Familiarity:

I've put it through the wringer

Fit:

Runs large
Actually waterproof, pretty lightweight, and simple design that fits over most layers you'd want underneath. I had 3 or 4 rain jackets as a Seattle resident, but aside from a bike-specific one, this is the only one left. Just long enough to cover everything, good shoulder movement, and big pockets that fit above a harness. Fit is larger, and not quite athletic, but works well for most activities. Mine may need replacement after 6 years of use but still going strong.
THE 4 Season Shell
Familiarity:

I've put it through the wringer

Fit:

True to size
This shell is awesome! The fit is great ( 6'1" 170, M), arms just long enough to always give coverage, but not to long to get in the way, body is slim and fitted but with enough room underneath for a light puffy over a base layer if need be. Hood fits amazingly, best hood I have ever had on a jacket, comfortably follows the head as you turn your head or bend your neck.



The eVent material is very breathable, non of the clamminess or coldness that I used to associate with shells. Sheds water like a duck, blocks wind very well, and doesn't sound like a trash bag.



Also has a super high collar, when zipped up all the way which i personally love as it keeps the neck completely protected in the cold. It can be slightly annoying if you don't have it zipped up all the way as it can flap around in your face a bit, but over all a very minor inconvenience that can either be fixed by zipping up all the way, or zipping down a bit more and taking the hood off.



I wear this jacket in 80 deg summer rain storms while backpacking, and during winter camping and mountaineering trips in the winter with heavy winds and temperatures around 0. It handles it all with the utmost grace, and style.



Get one, you won't regret it.


Best Shell for Anything
Familiarity:

I've put it through the wringer
I've had this jacket for a few years and it's great in the summer by itself or layered in winter. Rab makes the BEST hoods.

I agree the cut is a little slim so I paired it with an older version of this:

outdoor-research-centrifuge-top-long-sleeve-mens. Or a primaloft vest.

It fits great with a backpack.

Breaths like nobody's business. Never clammy.

I have it in black and it warms up in the sun nicely for cold days, but I sweat like a hog and it vents very very well. The bulk lost by not having pit zips means it packs small. It REALLY does not need the pit zips.

The material is tough enough to withstand thorns and some abrasions. I have the pants too and some people have said that with a lot of abrasion it can wear out. I have not had that problem but I'm not in slot canyons.

It's solid black so I get compliments on it when I wear it to the office with khakis. I've lived in it for wet days backpacking. Versatile is the word.


Great jacket, one quibble
Gender:

Male

Familiarity:

I've put it through the wringer
This is a great shell. I have never once felt clammy in it or missed pit zips. And I have never felt any water get in from the outside. I have used it throughout all four seasons doing everything from skiing to paddling and been very happy with it in all situations.



My only complaint is that the arms and armholes are extremely narrow compared to the rest of the jacket. This makes the fit somewhat awkward and layering options are limited as a result -- I am unable to use this shell for extreme cold days as I would lose the full range of movement in my arms. However if I sized up to allow more layering, I would be swimming in fabric in the body. So although I highly recommend this jacket, this is something to consider.
How is the neck/collar area on this jacket?...
How is the neck/collar area on this jacket? It seems REALLY high cut at the front of the neck. Is it useful or does that get into the way? Cheers!
the collar area does sit high compared to other jackets. RAB is well known for the functionality of their hoods but you make look a little weird wearing it around town. For Alpine environments, I wouldn't have it any other way.
Agreed - once the cold wind starts howling, the high collar, in conjunction with the adjustable hood, will create a nice gasket around your face. Rab has awesome hoods!
The collar is insanely high. I bought (and then returned) this jacket last fall. I liked everything about the jacket except the collar, and did want a "higher" storm collar. The collar comes all the way up to eye level. Sounds great in theory until you realize you literally have to grab and pull the collar down to see anything on the ground or in front of you up to about 10 feet away. Plus when not zipped you have a ginormous flag out in front of you that can catch in the wind. I really wanted to love this jacket, but had they trimmed just a little bit down on the collar and had just a normal "higher storm collar" this jacket would have been phenomenal imo... unforunately came up just short.
The higher storm collar is there to keep ice and snow out of your neck. This jacket comes with s Velcro hood roller, which comes in handy around town, and does a great job of stashing the hood. I have climbed in several different shells which different cuts. It certainly is a preference thing, but anyone who ice climbs, or spends much time in the spindrift in the alpine would prefer this feature in a piece of technical equipment. If you're looking for an item for just hiking, or around town try the mtn hardware Jovian. It's a much slimmer cut, and has a regular collar.
Breathable, Light, and Tough
I've owned a couple of Rab eVent jackets over the past few years, including a Latok Alpine, and they've been brilliant. These jackets are breathable, light, easy to care for, and pack down small. The hood fits great, moves with your head, and comes with a wire reinforced brim. The sleeves are pretty long, and the cut of the jacket won't allow it to ride up when you lift your arms.

If you take care of eVent like you should, it'll last ages and stay very breathable. The only way this jacket could be improved is to add some small underarm vents. I think all hard shell jackets should have pit zips, but that may just be me, since I'm on a mountain bike so much. Anyway, it's good kit. If you need a breathable waterproof, you really can't go wrong with a Latok Alpine.
how does 3 layer eVent compare to 3 layer...
how does 3 layer eVent compare to 3 layer proshell?
Without going into much detail: Both 3 layer systems (GoreTex and eVent) utilize:

1.) outer layer (face fabric, nylon, etc.)

2.) middle layer, or membrain (GoreTex, eVent, etc.)

3.) inner layer, or backer (which protects the membrain and starts the moisture transfer process).



All 3 layers are laminated together. The middle layer or membrain (goretex, eVent), and thickness or type of outer layer (or face fabric) and inner layer will determine the waterproofness and breathability. You can do a web search on "pro shell vs event" to see much more detail with supporting numbers, test cases, etc.
I'm looking for an hard shell for...
I'm looking for an hard shell for mountaineering. Rab's eVent fabric seems to have a lot of fans. Anyone know how it stacks up against Polartec's new NeoShell fabric? I'm also considering the Mammut Gifelgrat that uses NeoShell.
This is a great hardshell, and as far as breathability goes, it stacks up fairly well against neoshell. Both are air permeable, and as a result have great breathability. Don't even look at the Gipfelgrat jacket. It's overpriced compared to the other two big neoshell jackets out there: Rab Stretch Neo and Marmot Zion. If you want a mountaineering shell, look at the North Face Kishtwar, it's great for all winter use, and significantly more breathable than Neoshell or eVent.
Neoshell is more breathable than eVent but being brand new is untested whereas eVent is now tried and true. That said every review I've read has been very positive. Be careful if buying a Neoshell jacket however because a lot of manufacturers are using a fleece-lined version, and for some reason trying to market it as a "waterproof softshell". That's fine for cold weather and most mountaineering I suppose but not great for warmer weather when you're getting really active. As far as I know only Rab and Westcomb are making unlined Neoshell jackets, and 66 North is bringing one out soon.