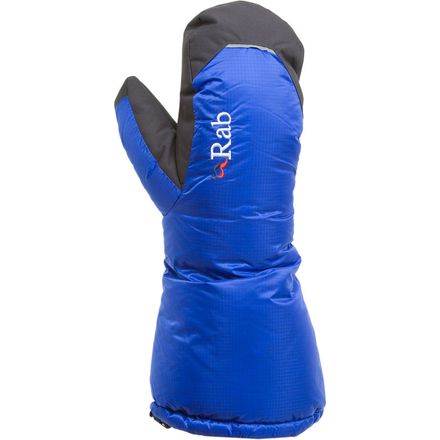 Detail Images
Description
Outlast the cold.
Sixteen ounces make a pound, and, above treeline, every last ounce counts. The Rab Endurance Down Mitten helps you spare the extra weight from your pack, and, come time for your push for the brutally cold, 7000-meter summit, it may just help spare your fingers, too.
Windproof Pertex Endurance fabric features 1K-rated water resistance and is highly breathable to prevent sweat from accumulating in the down insulation
High-loft, 750-fill European goose down insulation offers an incredibly high warmth to weigh ratio for use in brutal, high-alpine cold
Wide opening allows for easy on and off when your fingers are cold and your dexterity is suffering
In the early days, Rab Carrington built his brand around down insulation, and we still see down manufacturing as a core part of the Rab brand today.



All of our down insulated products are filled with the highest quality Hydrophobic Down, developed in conjunction with Nikwax. The hydrophobic treatment is applied at source and is seen as the next step in our progression in down manufacturing.
How tough are these? Are they just for...
How tough are these? Are they just for wearing around camp, or can they stand up to carrying an axe/ ski pole?
somewhere in between... put hand on rock next to you, not to be pulling up with force on. Poles and axe should be just fine.


These Mitts are bit odd to me. The sizing from RAB is confusing and misleading. RAB USA was of no help before I ordered these. I also have their Expedition Mitts, which is the same labelled size Large, compared to these is an XL or XXL. For me these are just not large enough.



The Expedition Mitts have lots of down around the fingers , where it counts. These do not . The long, wide cuffs are stuffed to the max, but the hand narrows down considerably . At the tips of the fingers there is not that much down, so ALL that cuff down is rather misplaced in my opinion. I've not heard many say "My forearms are freezing but my hands are warm !" Put the down where it matters, around the hand.



The palm material is great, grippy. I wish the Expedition Mitt had that, it only has a heavier cordura nylon with no grip.
Really, really warm. You feel your hands sweat the instant you put them on if you're indoors. Can't wait to try them in deserving weather.