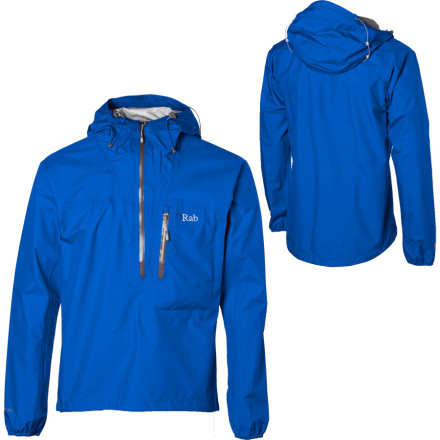 Detail Images
Rab balanced solid rain protection with lightweight construction to make the Men's On Demand Pull-On Jacket a just-right option for hiking, backpacking, mountaineering, mountain biking, or trail running. A half-length front zip offers extra airflow when you need it, and eVent 3-layer fabric blocks precipitation while letting moisture escape. The jacket's hood fits right around your climbing helmet or biking helmet, so you don't have to choose between your hood and your brain bucket.
Where is this jacket made?
Where is this jacket made?
Laughing Man,

This jacket is likely made in China or southeastern Asia.
light on weight, heavy on awesome
I got this jacket as a gift...best gift ever. I was in need of a lightweight shell for adventure racing and this jacket does not dissapoint! the included stuff sack is a great addition and keeps the packing volume nice and small. its no nonsense and no frills. The event fabric is terrific and it has kept me dry in some serious downpours. it fits great while running or cycling, and ive also used it for backcountry snowboarding and ice climbing, when i didnt want to pack my heavier shell.
it is not as full featured as alot of other jackets, but thats because its aiming to be a simpler lightweight design while still utilizing a full on waterproof material for construction. I am 6'2", 175 lbs, and the fit is perfect (i believe i have a large) It is not too loose so its baggy when its just over a baselayer, but i can comfortably get a 800 fill down sweater with a fleece underneath it and not feel like a stuffed sausage.

owning this has definitiely turned me on to rab products
I'm thinking about a Rab jacket, but am...
I'm thinking about a Rab jacket, but am concerned about sizing. I normally wear a Large (in Patagonia, MHW, TNF, Marmot) but the Euro size has me worried. I'm 6' and 205 lbs, and not sure if I should size up to an XL just in case.
The Rab stuff I have fits just the same as American sized stuff. Rab is based in the UK and as such they don't generally have the super fitted Euro cut.
Huh- I actually found something the exact opposite of James. I'd size up- Rab in XXL fits similar to Patagonia, TNF, Marmot, MH in XL for me. The torso on some Rab pieces is a bit larger in XXL than the American brands in XL, but the shoulder and chest cut is pretty similar.
i want to use this jacket for cycling....
i want to use this jacket for cycling.

does it have a drop tail? it looks like it does in the picture, but says nothing in the description.

thanks!
Yeah it does. Sized properly, front is just below the hips, back drops to just below the tailbone. Nice jacket that should be great for cycling.
Write your question here...backcountry...
Write your question here...backcountry only has Large...I usually take a medium, but things vary. For example I own a North Face shell in a large that fits o.k. Any comments on fit? For this kind of $ I want it to fit well! OR, will Backcountry be getting in more?
Best Answer
pro2461910,
Thanks for your question. The Rab shells run pretty true to size. I would order your usual size, size up depending on how much you would like to layer underneath the shell. We will be getting fresh stock in the Rab Demand Pull On in March 2011. Incoming colors are black and maya blue. I hope this is helpful for you.
I'm glad Deskdriver answered the question about stock, and it does run true to size, but the only thing I want to add is that with the additional bulk of any layers, as well as the 1/2 zip, I find that mine is generally a bit harder to get on and off than what I was used to in a full zip. It took a while to get used to. If you're at the middle-top end of a particular size, opt for the next larger one. Still, no complaints at all...a great piece of gear.
Unanswered Question
The fabric used in this jacket, is it soft,...
The fabric used in this jacket, is it soft, pliable? Noisy?
My Rab Drillium that is a few years old is also 3 layer eVent, but the fabric is noisy and "paperlike".
Anyone?
PURPOSE BUILT A+ I have been looking for a super light, highly breathable jacket and boy I have found it. This is the best jacket on the market for these purposes. Buy eVent, Ill never buy goretex again!

BTW the blue color is bad ass! nice and bright for alpine conditions, red looks pretty rad too.
I was wanting a super lightweight rain jacket made out of eVent. I looked all over and even bought a different jacket before I knew of this one. The second I found out Rab had made a pull-over I was convinced that it was for me. Rab pays extreme attention to detail. I love the half zip which maximizes airflow. Rab also excels at putting seams is areas that aren't prone to heavy abuse from rain and snow. The hood is superb and eVent 3 layer fabric is the best breathable fabric on the market. I put this stuff above and beyond Gore-tex Pac-lite. Don't get me wrong, I think Gore-tex is excellent but the eVENT fabrics have a tricot-faced inner lining (a typical "3-layer construction" that protects the eVENT membrane. In contrast, Pac-Lite fabrics have a very thin carbon coating to protect the Pac-Lite (Gore-Tex) membrane (what you might call a "2.5-layer construction"). The carbon coating poses breathing problems which makes the Pac-lite less effective whereas as the Tricot lining disperses moisture and promotes a moisture vapor flux through the membrane. EVent also feels a little more durable than the Pac-lite because of the 3layer design vs. 2.5 layer constructions.