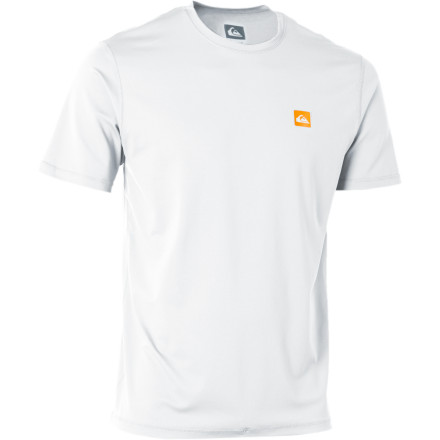 Detail Images
Description
Just think of it as a rashguard on chilloids.
'Have water, will perform' is the motto of the Quiksilver Edition Mullaway Surf T-Shirt. Casual style meets high-performance fabric in this versatile tee, which meets all the demands of a waterman: it's stretchy, UV-blocking, and quick-drying so you can eat fish tacos without being dripping wet.
Share your thoughts
What do you think of the
Quiksilver Waterman
Mullaway Surf T-Shirt - Short-Sleeve - Men's
? Share a...
Even I don't want to see most guys my age with their shirts off. A bit too hairy, a bit too pale and all the things that are just not where they are supposed to be anymore. We could call it 'Festively Plump' and lets just face it.. It's just not appealing to anyone. I am even noticing more and more that the fat man syndrome is affecting the younger generation even more lately. My wife and I point it out for the others enjoyment. saying something like.. "Hey Honey, Eye Candy at 10 o'clock." When she starts to gag or says something like "That's just not right.." I then reply.. "You're welcome."

I'm just saying you don't have to be like the fat kids swimming at the pool or at the beach with a soaking translucent Tee shirt on who think it is camouflaging their whiter than white fat rolls or their hefty set of droopy man titties they are trying to cover up. Which we all know doesn't work at all. "Hey look, fat kids with translucent tee shirts on.."

This shirt just lets you be a bit discrete and not show the world what you made of yourself during the off season. It also isn't a tight fitting shirt that makes you look like you just stuffed a pear into a lycra body suit which many a rash guard shirt does to many a man.

This shirt fits great and can be worn during and also to and from your water excursions giving you the peace of mind that you aren't showing the world more than you want to or more than you should.

It's just a normal looking Tee that can get wet and not look like you just draped a soaking translucent fat kid Tee over your fat hairy nakedness.

Hairy fat guys for the win.
Looks almost like a regular T-Shirt out of the water, but isn't too loose in the water. Great for snorkeling, kayaking, or hanging out at the beach. Love the color of the Blue Fin.