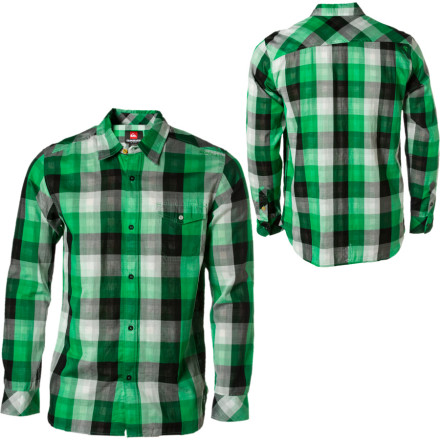 Detail Images
I am 5'7" 163 lbs. and I usually buy...
I am 5'7" 163 lbs. and I usually buy quiksilver longsleeve button down shirts in size large except they're slim fit and after I dry them they fit perfect. I'm wondering if the same would go for a large in regular or standard fit like this shirt. . .or should I get a medium?
I think a medium will work for you. They fit me ok and I'm 180lb and have a long torso.(I also hang dry) If you want a baggier fit, go large.
My only concern with getting a large would be the length of the sleeves, with you only being 5'7" you're going to end up with a lot of extra material around your wrist, might look kinda sloppy. It's not a dress shirt, by any means, so you might be able to pull it off. I'm 5'10" but only 145lbs, and a small is a great fit around my chest and waist, it just leaves more to desire on the sleeve length for me. something to consider.
Hi, I'm about 1.88 meters tall, and I...
Hi, I'm about 1.88 meters tall, and I usually wear large, but I'm not quite familiar with the american sizing.. Would a Large fit me okay? This is about all shirts, not JUST this one. Though I really like it!
(I've experienced that the american sizing is quite bigger than Norwegian.)
Hey Philip, if you're 1.88 meters tall, a large (in any American brand) will usually fit you best. This shirt is no exception--I would choose a large for you.
The double layers make this shirt sweeter than trident layers! Get paid wearing this shirt! But seriously, the fabric is a nice thin soft cotton plaid that has a nice sheen and together the layers give the shirt a very unique look.
Almost wish it was reversible.

Nice fit, good length and not a slim fit