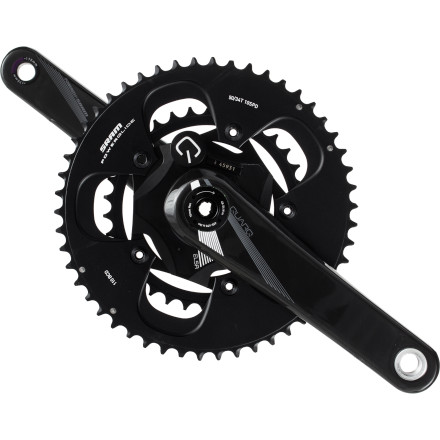 It could easily be argued that if you're not training with power, you're simply not training. At this point, the success of power-based training and racing is irrefutable. And now that Quarq's thrown the rule book out the window with its new Elsa BB30, the aforementioned becomes more of a fact than an assertion.
For Quarq's 'next wave of powermeters,' we see a complete redesign over the Cinqo, with an emphasis placed on three key issues -- weight, accuracy, and ease of use. And starting with weight, the Elsa features SRAM's Exogram Hollow Carbon crankarms found on the latest iteration of SRAM RED. You'll also find SRAM's RED Powerglide chainrings from one model back. But, as the name implies, the cranks feature a hollow construction. However, what isn't inferred is that the hollow cross-section design extends all the way to the new spider, creating SRAM's stiffest and lightest crank ever. In fact, the complete system tips the scales around 735 grams in a GXP format, leading us to believe that this BB30 iteration weighs even less. For some perspective, the newest RED crankset weighs around 585 grams, and the last Quarq RED Exogram powermeter weighed 830 grams. So, the Elsa is sitting in a rather respectable position.
Elsa's innovation didn't stop at the crankarms. For a rigid crankarm attachment, the Elsa uses a newly designed, CNC-machined aluminum spider. Now, all of the data-collecting electronics, and the system's battery, is housed in the spider. Quarq is calling this OmniCal, but you can call it liberating. OmniCal enables the powermeter system to collect data independent of the chainrings. So, you can swap out rings for without affecting the accuracy of the system. And speaking of accuracy, the Elsa powermeter system operates on the powerful ANT+ wireless system with an expressed accuracy of +/- 1.5% -- an accuracy improvement over the Cinqo Saturn's +/- 2%. Even more impressive is a new feature that we've only been witness to on pedal-based powermeter systems, Power Balance. This means that the Elsa is capable of capturing individual readings for the right and left drive strokes. So, you can measure the your balance of power and adjust your training accordingly.
Choosing the Elsa also provides you with several advantages over other systems. Our favorite has to be its ease of use. Along these lines, Quarq has remedied a common frustration to powermeters, setup. Now, the Elsa's ANT+ ID is clearly visible and there's an LED indicator in order to make the setup a simplified affair. Another game-changing perk is the ability to change the system battery yourself. Unlike SRM Powermeter systems that require you to mail in your crankset for battery swap-outs, the Elsa features a tool-less user replaceable CR2032 cell battery. And don't worry, with a predicted 300 hours of ride time per battery, you won't have to be changing it too often. This means more time in the saddle and no need for backup cranksets.
The Quarq Elsa BB30 Powermeter Crankset is available in the color Black and in both a 50/34 and 53/39 tooth chainring configuration. Also, the crankarms are available in 170, 172.5, and 175mm lengths for both the compact and standard options. Please note that this version of the Elsa is only compatible with BB30 bottom brackets systems, which are not included with the powermeter. Also, Quarq states that the Elsa is officially compatible with SRAM's RED, Force, Rival, and Apex front derailleurs. For CPU pairings, the Elsa is compatible with any ANT+ equipped head unit.
Unanswered Question
Will this accept Rotor Aero/TT Q rings?
will this crankset work with 2014 Cervelo S5 with Sram force 22 groupset?
Andre,



Thanks for the question. The BB30 SRAM cranks will work, but because of the BB- Right, you sometimes need additional spacers from Cervelo to make it work. Unfortunately we don?t carry these but you can get these from your local Cervelo dealer easily.



Give me a shout if you want to order and I would be happy to expedite the order.





Cheers,



Adam DeWitt

Customer Solutions - Bike



Office: 801-736-6396 ext 5630

adewitt@backcountry.com


Does it work with Ultegra or only SRAM? I have a 2013 Argon18 E116, 11 speed. If not, which Quarq model fits with Ultegra?

Thanks
Best Answer
This is the BB30 model. You will need the GXP model for the Argon frame- Part number - QRQ0009
Is the compatable with a 2009 Cervelo P3C? I'm not positive which BB I have. I think it might predate the BB30.
Hello,



Yes, This one was designed for 11spd but will work for 10 spd as well. Give me a shout if I an help you with an order.



My number here is 801-736-6396 x 5630 or email adewitt@competitivecyclist.com