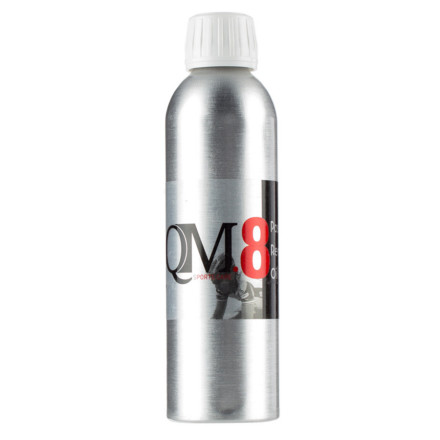 How is it possible for professional cyclists to go out day after day and race for six, seven, or even eight hours at a time? Good genes and stubborn determination may be part of the answer. The fact that they receive a professional massage every night also has a lot to do with it. You can treat yourself like a PRO by using the QM Sports Care Post Sports Recovery Oil after a hard day on the bike.
To make sure your legs are ready to ride after multiple hard training or racing days, you need to move the lactic acid out of the muscles after each ride to avoid being sore and feeling heavy. We know that professionals who travel to personal training camps miss nothing more than their daily massages from the team soigneur. The QM Sports Care Post Sports Recovery Oil is meant for any cyclist who embarks on an intensive training regime or multi-day race schedule. The use of all-natural ingredients means that you'll have a pleasurable aroma as well as the comfort of the soothing massage.
Among the ingredients, oil of lavender is included to help relax the muscles and even reduce the pain caused by the muscle damage that heavy-duty cycling inflicts. Cypress oil has been added to stimulate blood flow to decrease the amount of time it takes the muscles to drain the build up of lactic acid. Aniseed is used to reduce any cramping that may result from the day's hammerfest. Though QM Sports Care is used by soigneurs to prepare their riders for the coming day's rigors, the Recovery Oil is just as easy to use alone in the privacy of your bedroom. The easy-to-access packaging means that, even once you're all greased up, you'll be able to screw and unscrew the cap without slippery difficulty.
You may be wondering why you should lay out your hard earned money for both an embrocation cream and a recovery oil. Isn't a massage a massage after all? Well, not really. The ingredients that QM Sports Care uses for each product are specially mixed to give defined physical benefits. Embrocations have ingredients designed to give them a warming effect which is perfect for waking up the muscles before a hard workout in cool weather. However, once the body has put in a heated effort, everything from the muscles to the organs needs to cool down in order to work effectively to rid the cardiovascular system of the built up lactic acid.
Long gone are the days when BENGAY was the wonder rub that we would taste with our pre-race breakfast. QM Sports Care Post Sports Recovery Oil is far more pleasant and helps you feel just that little bit more PRO by providing you with the same type of advanced support that Philippe Gilbert enjoys.