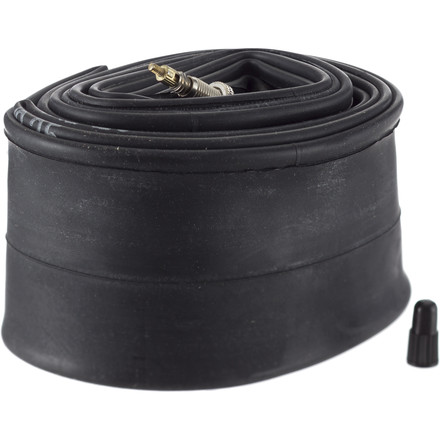 Colors
Description
Be your own hero.
Given the rapid arrival of 27.5-inch wheels to the marketplace, the likelihood of your LBS or trail-side guardian angel not having the corresponding tube is pretty high at the moment. For this reason, we recommend grabbing fate by the horns and stocking up on the Q-Tubes 27.5in Presta Mountain Tube. After all, it's better to be prepared then to be stranded.
The Q-Tubes 27.5in Presta Mountain Tube is available with a 32mm Presta valve and features a width of 1.375 - 1.75 inches.
They work awesome just like a tube should. They mount to the rim nice too. Easy to install, you will not be disappointed.
Be Prepared
Familiarity:

I've used it once or twice and have initial impressions
Sometimes you just need to plan for the worst....I have tubeless tires, but got these as a back-up just in case I experience one of those "blow out" things or a popped tire of some sort. I grew up on tubed tires, so I know they are reliable, and good to have around. The Q-Tubes 27.5in Presta Mountain Tube are a great choice as they are solid and won't break the bank!
Tubes?
Familiarity:

I've used it several times
As others have mentioned, it's 2015 and tubes are for emergencies. These do a great job of padding my camelbak without crushing my piggy bank. I have had to use them on occasion as I have used this exact tube for a few years now, and they have done great so I continue to trust them as my way out if things go wrong.
Just got my first 27.5 and while it's tubeless I think it's important to always have an extra just in case. Q-Tubes have been quality in my experience as well, just make sure to regularly check your tire pressure.
Always have one
Familiarity:

I've put it through the wringer
Even with tubeless, I carry a spare tube, just in case. And it will work on any wheel size (29/26) in a pinch on the trail, so I am generally the lifesaver in the group!
650b Tube is a rare breed
I bought 2 of these for my Wife's Santa Cruz Bronson. She runs tubeless but if she slices her tread beyond a sealant fix, she has one of these tubes to throw in there. I was recently on a ride with a large group of people and one of the guys tore through his 27.5 tread. A bunch of people had spare 26 and 29er tubes but no one had a 650b. Bummer.
Good tubes. Get the job done when I'm not running tubeless.
Will these tubes work for a 2.3in. Tire?
Will these tubes work for a 2.3in. Tire?
These tubes are recommended for tires up to 1.75in. I would recommend going with a tube rated for 2.1-2.35 for your tires.

I am sorry to say that it doesn't look like we currently have any in stock, but I have had great success with the Kenda branded tubes as they are the same as Q tubes.
27.5 = 650b
Familiarity:

I've put it through the wringer
Q-tubes are a staple in my pack and at my bench. Great value and performance. Now that 27.5/650 is here to stay, I had to stock up on a few.