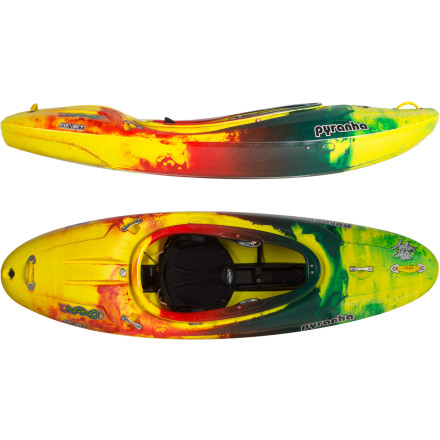 Colors

Detail Images
Description
Precision for steep creeks and playfulness for feature-filled rivers.
Firmly planted in Pyranha's line of river running boats, the Nano Kayak makes it easy to play in the creek and feel confident in the river. Short for its category, the Nano takes on a more playful nature than the Burn or the Shiva. The hull features a semi-flat bottom to make spins and surfing simple, while full-length rails engage with lightening speed when you need to snap into a tight eddy. Taking a page from the design of the freestyle-specific Jed, the Nano maneuvers on a dime and softens boof landings thanks to the progressive bow-to-stern rocker. And for paddlers who prefer to lean back on big features, the stern offers ample volume to keep your riding high when the river tries to suck you in. Experienced boaters will revel in the fact that this boat is not only fun and fast but easy to portage, while aspiring creekers will find confidence in the stability and predictability of this versatile ride.
Additional stern volume keeps the hull riding high over waves, holes, and aggressive river features
Full progressive rocker is more abrupt at the bow and significantly more gradual toward the stern
Progressive rocker shape makes this boat feel predictable when edging through rough sections of water or when popping off a wave or out of a hole
Bow has a contoured, somewhat voluminous shape that helps the Nano pop up predictably after a big boof
Connect cockpit outfitting includes an adjustable back band, foam foot blocks, and thigh braces
Ratcheting back band gives your lower back just the right amount of support for explosive movements in the water
Thigh braces keep you closely connected to your boat so you can pivot, edge, and toss the hull around as needed
Central step-out pillar, hull stiffener, and rear foam buoyancy improve overall safety when burly water threatens to pin you or flush you out
Reinforced grab handles give you a quick, easy way to grab your boat and haul it out of the river or your car
Drain plug means that you can tip the Nano on end and drain the cockpit fast
Micro creeker?
Familiarity:

I've put it through the wringer
I love it! this is my go to boat... It surfs big, boofs big, and runs big volume water! I call it my Porche... Speed with control, all in a nice compact package.
Will a 6'3", 32" inseam, 220 lbs, 11 1/2...
Will a 6'3", 32" inseam, 220 lbs, 11 1/2 USA shoe size person fit in a large Nano?
I think you should have fun with this little boat. It's fully customizable so you will be able to make this thing the perfect fit for you.
The boat is very stable easy to surf, spin Ive only tested it on class 3 water love the boat great construction one thing Im bummed about is the pads on the outside of the thighs the glue came undone after my 3rd run but is easy to fix but still after spending a grand kinda sucks. Im 6 foot 220lbs size 12 feet the Large fits great.



Now on customer service Backcountry shipped from virginia to colorado I ordered the boat on may 28 and never received a status update on shipping until I had to contact BC which gave me a tracking number but never updated my account status. They also used a independent shipping company to ship my boat. It shipped the 3rd of june and I got the boat on the 11th which wasnt so bad but I think Fedex or UPS would of done a better job I received the boat in great condition except a couple dings but whatever. All in all Im satisfied but some more communication would help!
Pyranha Nano, looks like a great time!