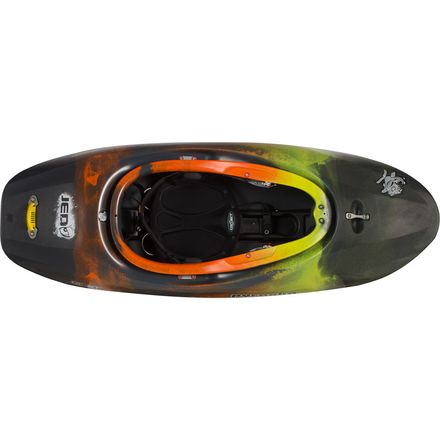 Colors

Detail Images
Description
A freestyle boat that fires into waves and holes.
Loose in the hole and fast on the wave, the Jed Kayak is Pyranha's high-performance freestyle weapon. While boats like the Loki or the Varun would be your choice for river running, the Jed is the first stop when you need a snappy ride that makes even the most technical moves and combos easier. Progressive rocker rewards your snappy edging style with plenty of pop to get you airborne, and when you land, the v-hull contour (at the rear two-thirds of the stern) makes your landing buttery smooth. Like a play boat, the bow and stern are slicey, which makes vertical maneuvers that much easier. One of the primary differences between the Jed and its play or river running compatriots is the distribution of volume around the core. You get more room in the cockpit, a cleaner fit, and the punchy buoyancy needed for popping in and out of the water when you're hitting loops or driving your body forward through some rapids.
Hull features a volume distribution focused at the core of the boat, with volume quickly tapering away at the bow and stern
Full progressive rocker is more abrupt at the bow and significantly more gradual toward the stern
Progressive rocker shape makes this boat feel predictable when edging through rough sections of water or when popping off a wave or out of a hole
Bow and stern have a hard, slicey profile that makes it easy to initiate vertical moves and that give the Jed a balanced feel when you're cartwheeling
Rear two-thirds of the hull features a v-shape contour for quick edge-to-edge transition and less stern slap when you land a move
Connect cockpit outfitting includes an adjustable back band, foam foot blocks, and thigh braces
Ratcheting back band gives your lower back just the right amount of support for explosive movements in the water
Thigh braces keep you closely connected to your boat so you can pivot, edge, and toss the hull around as needed
Share your thoughts
What do you think of the
Pyranha
Jed Kayak
? Share a...
Posted on
is this boat suitable for a 185 cm tall...
is this boat suitable for a 185 cm tall and 110 kg beginner/ intermediate ?? How much would be a long one including the paddle ? Cheers

Responded on
Hey Chris,

Unfortunately, there aren't a whole lot of playboats out there that accommodate paddlers at the upper end of the spectrum-- the Large Jed may end up being a tight squeeze for you at 242 lbs-- you'd be JUST inside the weight/height recommendations, but only by a hair.

For other options that might give you a bit more breathing room, I'd recommend checking out the Jackson Mon-Star (the largest version of the Star series) or the Wavesport Project X 64.

The overall pricing is going to depend on the paddle you're interested in. If you'd like to explore options, feel free to hit me up! 800.409.4502 ext 4456 or llabar@backcountry.com.
Posted on
I am looking to go whitewater kayaking and...
I am looking to go whitewater kayaking and rent a boat before I go ahead and buy one. I used to do it up in Maine.
Responded on
We don't rent, but you can buy a kayak from us. If you're used to boating in Maine, a boat like this would be great on the Kennebec or the Dead. A high volume playboat like this is super fun in the Kennebec Gorge!