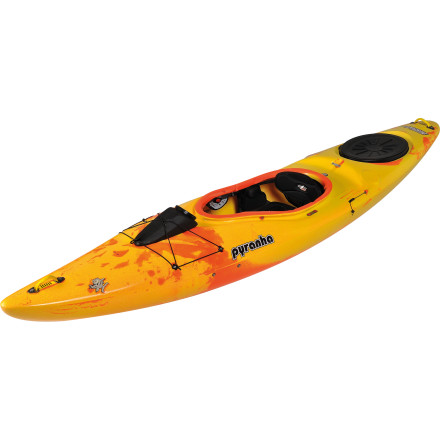 Colors

Detail Images
Description
Whitewater or open water, this crossover handles both with ease.
You enjoy whitewater and open water, rivers and creeks, but you can't afford to keep an entire quiver of boats to cover every paddling scenario. Pyranha created the Fusion Kayak to solve this problem by giving you a one-boat option for both fast-moving water and open stretches of ocean or lake. One of two boats in Pyranha's river touring lineup, the Fusion is first and foremost forgiving. The hull is more stable and less sensitive to lateral movement than a river runner like the Everest, but it's more maneuverable than the long-and-fast Speeder.
A built-in skeg system improves tracking on open water, the two-position backrest can be adjusted for either comfort or control, and the rear hatch is roomy enough to hold up to 78 liters of gear for a long day on open water. Hit the river and you'll discover the surprising maneuverability offered by the hull rocker, the foam bulkhead that keeps you floating high over river features, and the grab loops and rescue points that add security not typically offered by a touring boat. For everyone from aspiring to expert paddlers, this boat offers the ideal balance between the nimble shape and safety of a river boat and the comfort and efficiency of a touring rig.
HDPE metallocene hull material is rigid and durable enough for bouncing through whitewater, and it's lightweight enough so you won't feel sluggish on open water
Hull has soft lines and an even volume distribution that make it feel predictable and stable when you lean to edge or initiate a roll
Top of the deck has a v-shaped crown to aid water drainage and a small groove to hold your paddle in place when you need both of your hands to grab gear
Connect 30 outfitting offers fully adjustable
Flip-top backrest can be folded up or down depending on the paddler's preference, with one position offering more comfort and the other, more control
Cockpit lip accepts your favorite spray skirt to keep water out of the cockpit
Engage the drop-down skeg to improve tracking on flat, open water
Skeg box is designed to minimize drag so you can paddle with maximum efficiency with the skeg up or down
Rear hatch cover features a waterproof seal, and the hatch (on the medium) boasts 78 liters of storage space, enough for a couple days worth of camping and paddling gear
Hatch on small has 60 liters of space, while the hatch on the large has 82 liters
Lightweight foam bulkhead adds buoyancy to the stern of the boat so you don't have to worry about using buoyancy airbags
Rescue points allow you to attach a carabiner or rope at the bow or stern when you need to z-drag or leverage a pinned boat
Grab loops give you a large, secure handhold so you can easily drag your boat out of the water or load it on your car
Solid boat for the everything paddler
Familiarity:

I've used it several times
Over 14 days I lived out of the Fusion in the Grand Canyon of the Colorado River. I really enjoy that the rear hatch is completely sealed from the forward end of the boat meaning that in the result of a swim your back hatch would remain dry. The boat was a pleasure to paddle and roll down all the rapids and over the miles on miles of flatwater. For the flatwater you have the added bonus of the drop keg system.
This boat takes a rowdy run down the PayetteRiver in Idaho during a kayak Comp.
perfect all around boat
Familiarity:

I've used it several times
did my first class 2 tour, super stable, easy

lot of lake tours, fast and straight line

https://www.youtube.com/watch?v=ITAZoW05cwI
All about the Pyranha Fusion
This video shows you the in's and out's of the Pyranha Fusion cross over kayak.
Pyranha Fusion on the Grand Canyon
As the name suggests, the Pyranha Fusion is a cross-over kayak which allows the paddler to enjoy two great areas of paddle sport, white water and touring.

Super stable, fast and easy to paddle, the Fusion gives you the freedom to choose from some fun whitewater or checking out some estuaries or a sheltered bay.

The tried and tested Pyranha skeg system adds a great feature allowing you to track in a straight line and the drag reducing skeg box allows the water to flow straight out of the stern of the kayak.