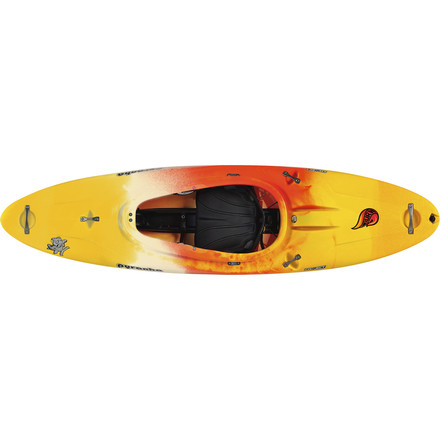 Colors

Detail Images
Description
Burn that mother down.
The knife-like precision of Pyranha's Burn Kayak has made it a favorite of creek seeking paddlers and river running rats for years. Newly redesigned, the Burn III Kayak maintains the same whitewater prowess of its predecessors, while implementing some tweaked designs, which make this boat faster and easier to control. In short, Pyranha turned its family-friendly sedan into an Italian sports car.
The combination of a planing hull with distinctly sharper edges lets you spin the boat with ease. A longer water line puts more power to your paddle when you're picking up speed. Also updated from previous versions, the bow gets a bigger rocker while the stern stays fairly low-key. More space up front means more volume so you ride high over obstacles and boof with the best of 'em down steep drops. Slightly smoother in back but still with clear margins, the stern is less grabby yet still sharp when precision is paramount.
The decks went up a notch to accommodate more volume and shed water so you stay high above the fray. The cockpit underwent a major overhaul, stripping away unnecessary extras and narrowing the knee area. Connect outfitting still gives you an adjustable foam seat for bum comfort when paddling all day. With a less spacious cockpit, you have a greater ability to use your knees for control. With an updated profile and a more control-oriented cockpit, the Burn III yearns to be threaded between semi-submerged boulders or dropped down class IV rapids, knowing you can't help but audibly shriek with glee.

Rotomolded plastic hull
Rockered hull
Connect Seat
Adjustable hip pads
Ratchet adjustable back band
Adjustable thigh grips
Full plate footrest
Gear strap
Aluminum handles