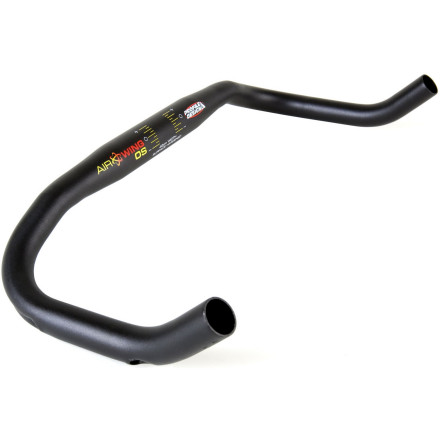 Detail Images
It's hard to believe that aerodynamic handlebars have classic designs. Base bars, which were sold as "bullhorn" handlebars before clip-on extensions became de rigueur, have been around since the Eastern Bloc teams dominated team pursuits and time trials in the early 1980s. Shortly after bullhorns became essential for time trials, Mavic debuted their version. It was blocky and beautiful; simple, strong, and kept you in a very low position. This Profile Design Airwing OS Base Bar is the child of that early design.
Base bars have two essential areas, the center section where you clamp your extensions and the arms where you rest your hands for starting, standing on the pedals, and turning. The Airwing OS is sized for 31.8mm stems, which is a relief to many as 26.0mm base bars are still around but finding stems is a pain. The drop is relatively short at 35mm, but the reach is comfortably long at 180mm. The longer reach means you won't feel like your torso is too tall when not in the bars.
The ends of the horns are designed for plug-style bar-end brake levers. There are cut-outs in the side so you can thread through the bar and then out the back. Likewise, there are also cut-outs for older clamp-style brake levers where you have to run the cable externally.
The Airwing is compliant with the latest UCI base bar regulations; it fits within the 3:1 ratio they currently mandate.
The Profile Airwing OS Base Bar comes in a 42cm width, measured center-to-center. The bar is made from double-butted 6061 aluminum. The color is anodized matte Black.