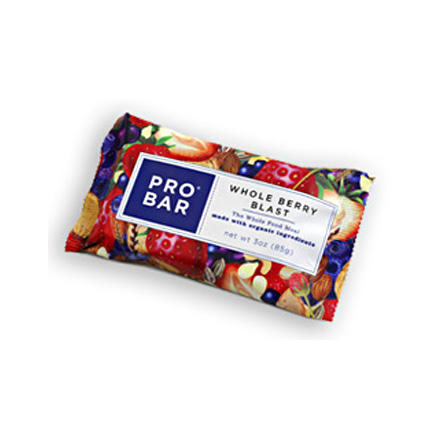 Over 70% of ProBar's Whole Berry Blend Bar ingredients are organic, so you get an optimal amount of nutrients, not chemicals. This bar has a yummy almond butter base, with strawberries and blueberries. Blended instead of baked, the Whole Berry bar digests quickly, so you have energy for your final push. This ProBar snack also takes less water to digest, allowing the water you take in to go toward hydration instead of breaking down food. Enjoy all 12 of the ProBar Whole Berry Bars in this box.
, ☃bcs_badge_alumni_label☃
Yummy
Try these and you'll be hooked. We have a box at the ready in the cupboard at all times. Simply delicious and filling.
Wow, what a great trail treat! These things really taste great, and pack some long term energy in them. The fat and calorie content are not for the faint of heart, but that's because they are a meal replacement bar. When your on the go, and need to get some serious fuel into your body, and gels and shot blocks just are not going to cut it, throw one of these in the pack. I've tried a variety of flavors, and haven't found a bad one in the bunch!

Ok, sure they are pricey, let's talk about that: did you look at the ingredients list? Where else can you get an OG, Vegan, Raw food mean for this price. Cheaper than a trip to the farmers market, and better tasting than your weird friend's "heady" recipes, brahhhhhh.

Sure you could get something not as good for you for cheaper, but you could also eat dog food like mad max, and I don't see you doing that yet either....

Bottom Line: YUM!
Very satisfying, easy to eat. This bar tastes like it's natural food, rather than candy.
I absolutely love these bars. If you are like me, you just can't have all of the same bars on a backpacking trip. No matter how much you like Clif bars (or whatever), you will be sick of them soon if that's all you brought. I love having these ProBars for my rotation.

They are moist, dense, nutty, fruity, tasty, filling, and 100% vegan. Around 400 calories, they make a nice meal replacement (or supplement). I have enjoyed all the flavors I've had so far, with the "Old School PB&J" being my favorite, but this one is good, with dark chocolate, and big chunks of blueberries and almonds throughout.

They also work well to throw in your desk drawer at work for those busy days when you can't get away for lunch. I prefer to buy them as singles to make sure I like the flavor, but once you know, the box purchase is a good value. Do it. Get the Probar. Do it. :-)
, ☃bcs_badge_alumni_label☃
MMMMM.....ProBars
First there were PowerBars. Then there were Cliff Bars. ProBar takes the next step and makes all other bars irrelevant. I'm a huge fan. The Whole Berry Blend is fantastic and I'd highly recommend trying them out if you haven't already.
ProBar rocks.....that really is all you can say. These are delicious, filling and don't give you that artificial ingredients feeling afterward. Whole berries, whole nuts. Fantastic. Meal replacement bars so don't think of them as a snack!
These are so yummy! I love most of the probar flavors, but these have whole berries in them, like whole strawberries?! totally different than most all energy bars. They are a little heavy though. Great when you need a lot of energy and can't stomach anything big but know you need the calories.
ProBar Whole Berry Blend - Real Food, Real Quick, Real Energy
ProBar's Whole Berry Blend Bars are my absolute favorite bar because they taste great, provide a good punch of lasting energy and I can actually decipher the ingredients! ProBar has nothing to hide - they use real organic ingredients to make delicious bars.

Berry Blend had been my go-to flavor for quite a while; however I tried out one of ProBar's Sweet and Savory flavors the other day ... I highly recommend the Maple Pecan!
This is the best bar I have ever had. It tastes so fresh.
, ☃bcs_badge_alumni_label☃
I love ProBar Whole Berry Blend!
I love the ProBar Berry Blend & the Super Food Slam: I always have one in my desk drawer or in my pack. These bars are soooo tasty, good for you, & made locally-how could you go wrong? Plus, unlike another well-known nutrition bar, the ProBars do not make you f**t! Great for camping when sharing a tent. I really appreciate that 70% of the ingredients are organic-I actually know what every ingredient is.
I really dislike cliff bars I can taste the fiber a little too much. I found pro bars about a month and a half ago and have not looked back. The taste great and do NOT taste like cardboard.
I like the cliff bar blueberry bars better. But these are pretty good. but for the price I will take the Cliff's over this flavor. IT seems to be easier to eat than the cliff bar though with more ingredients.
I am a bar guru. This bar is very unique because of the variety of ingredients. Some bars are too small or too heavy -this one is just right. If you like bars that have the right stuff this is it.
these bars are really nice when your in hurry they go down easy and taste really good.
, ☃bcs_badge_alumni_label☃
Yummy. Healthy. Convenient. The list goes on...
That pretty much sums it up; organic, non-baked, tasty, etc. The one thing missing is "inexpensive" about three buck a pop. If money's no object (not that it isn't with me!!), knock yourself out. Every kind I've tasted, I've liked; these are just as good as any. Buy a box or two and enjoy!
The best Granolahead bar in the world
These are delicious. This is my second box, previously I got the Cran-Lemon twister. These are not energy bars , but a meal replacement bar. They are full of nuts and seeds and dried fruit. Though I do eat them in the middle of mountain bike rides, and feel great.