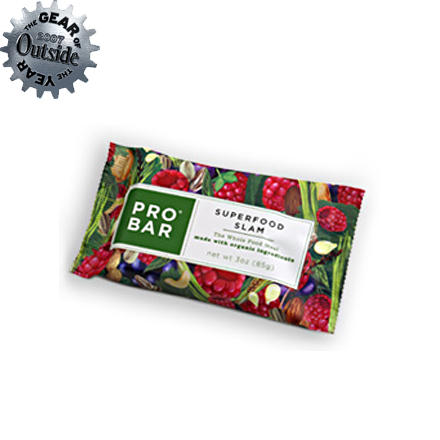 Add organic super-greens, hemp seeds, pure grain dark chocolate, and berries to ProBar's signature 15 whole food ingredients and you have the Superfood Slam Bar. Simply said, this brings a whole lot of antioxidants to an already nutrient-rich bar. The Superfood Slam Bar has a Brazilian super-berry ingredient known to promote healing, and the super-greens blend includes barley grass, oat grass, wheat grass, and alfafa, which boost your immune system and digestive track health. The all-natural, 100% Vegan Superfood Slam Bar is blended to help with easy digestion, so you can get energized quickly on the trail. *12 Bars to a box.
Great backcountry breakfast
Really good and it doesn't leave me with a rock gut feeling after I eat it =).
Best bar I have had in a while!
This is by far the best tasting bar I have had in a while. While I am am fond of a number of brands this pro bar and flavor is far superior to many of the other dry cardboard textured bars out there. This one tastes like fresh fruit with every bite and is not one that you have to force yourself to stomach for the calories. Worth a shot!
I spend my life outside, whether I'm wildland firefighting, avalanche forecasting or seeking alpine adventures on my own time, I've got to fuel my body. I'm one of those guys who needs A LOT of calories all the time. Thus, I've eaten plenty of "bar food." I can barely stomach most bars these days, but Probars are the exception. This is far and away my favorite flavor, I buy these things by the case load at this point. With over 300 calories you can't beat these things. That, and they're freakin' delicious too! You won't be disappointed.
Got these to keep with me in my bag just in case I get hungry. They taste great and are awesome to have on hand. Love to combination of nuts, dark chocolate, and fruit taste!
Got these to keep with me in my bag just in case I get hungry. They taste great and are awesome to have on hand. Love to combination of nuts, dark chocolate, and fruit taste!
Wow, what a great trail treat! These things really taste great, and pack some long term energy in them. The fat and calorie content are not for the faint of heart, but that's because they are a meal replacement bar. When your on the go, and need to get some serious fuel into your body, and gels and shot blocks just are not going to cut it, throw one of these in the pack. I've tried a variety of flavors, and haven't found a bad one in the bunch!

Ok, sure they are pricey, let's talk about that: did you look at the ingredients list? Where else can you get an OG, Vegan, Raw food mean for this price. Cheaper than a trip to the farmers market, and better tasting than your weird friend's "heady" recipes, brahhhhhh.

Sure you could get something not as good for you for cheaper, but you could also eat dog food like mad max, and I don't see you doing that yet either....

Bottom Line: YUM!
Got these to keep with me in my bag just in case I get hungry. They taste great and are awesome to have on hand. Love to combination of nuts, dark chocolate, and fruit taste!
They are moist, dense, nutty, fruity, tasty, filling, and 100% vegan!
I absolutely love these bars. If you are like me, you just can't have all of the same bars on a backpacking trip. No matter how much you like Clif bars (or whatever), you will be sick of them soon if that's all you brought. I love having these ProBars for my rotation.

They are moist, dense, nutty, fruity, tasty, filling, and 100% vegan. Around 400 calories, they make a nice meal replacement (or supplement). I have enjoyed all the flavors I've had so far, with the "Old School PB&J" being my favorite, but this one is good. It does have that "green food' flavor, though, if you know what I mean, so know what you're getting into. If you don't know what I mean, good luck.



They also work well to throw in your desk drawer at work for those busy days when you can't get away for lunch. I prefer to buy them as singles to make sure I like the flavor, but once you know, the box purchase is a good value. Do it. Get the Probar. Do it. :-)
Just as I am starting to wear out on the trail I usually slam one of the various Pro-Bars and I am ready to go again. I think I actually look forward to the point where I start to get tired so I can eat one. The "Super Food Slam" is definitely the best though. Stock up, hit the trail, and never look back.
These bars taste great and are packed with healthy, natural ingredients. They are about 2X as expensive as some of the other all-natural premium bars out there, but they are also 2X as big. Big/filling enough to serve as lunch when on the go.
this bar is a nutritional powerhouse. all bars by their nature are processed to some degree. they just don't grow on trees afterall. but this bar is blended with all natural ingredients and whole foods. knowing that i was very pleasantly surprised with the taste. a mouth full of flavor.

they are also a calorie powerhouse at 350 calories. that is pretty much the most of any bar on the market. so if you are eating them during a workout be careful not to overdue it.
I spend over 100+ days a year skiing/hiking. Every morning I eat I PRO BAR and a banana, providing me with the energy to hike/play/ski all day. SUPER FOOD slam is one of my favorite flavors. You can tell you are actually eating REAL ingredients. Every few bites you get a big chocolate chip (organic of course like the rest of the bar). I highly suggest trying or just simply switching over to PRO BAR if you are a fan of Clif bar.
Wonderful, but it takes a lot of self control to eat them only when needed. They're like candy. Will definitely buy again.
, ☃bcs_badge_alumni_label☃
ProBar Super Food Slam...Yum!
I love the ProBar Super Food Slam & the Berry Blend: I always have one in my desk drawer or in my pack. These bars are soooo tasty, good for you, & made locally-how could you go wrong? Plus, unlike another well-known nutrition bar, the ProBars do not make you f*rt! Great for camping when sharing a tent. I really appreciate that the ingredients are 'whole foods'; I could live off of these bars.
This bar is great tasting easy to eat and provides loads of needed fuel. stays chewy when cold and is great as just a snack at work. Worth the price for what you are getting.
, ☃bcs_badge_alumni_label☃
Tasty...
This is the best tasting power bar I've had yet. Yes, it's pricier than others, but the good taste guarantees that I'll actually finish eating it, thus ensuring I don't bonk while out on the trail or skin track.
The flavor is better, and the natural ingredients make this bar a great choice. The price isn't so great, with other bars on the market for less.
Pricey, but I would say this is the best energy bar I've had.

Tastes good, a lot like a handful of trailmix heavy on the seeds. The best part is the ingredients. Everything in it is wholesome goodness and healthy energy.
taste better than it looks
the bars rock there a great meal replacer when your on the go outdoors or just dont have time to sit down and eat
My problem with most energy bars is they taste so bad I don't eat them. Not the case with these. I found myself wanting to eat them before I was super hungry. I am ordering another box of these and maybe even trying another flavor.