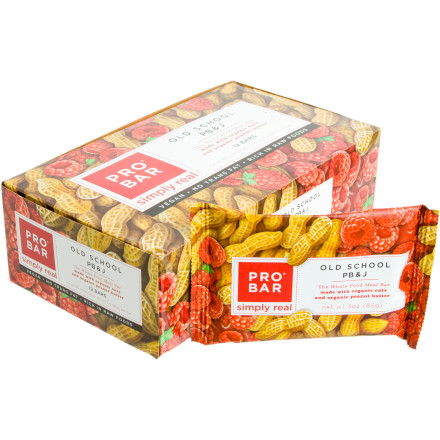 Detail Images
Even though your mom's peanut butter and jelly sandwiches were always soggy, you still look back on those brown-bag lunches with a fond sense of nostalgia. Now you can satisfy your craving for that classic grade-school taste with a 12-pack of Pro Bar's Old School PB and J meal-replacement bars. Made from mostly organic, raw, vegan ingredients, eating one of these energy bars not only satiates your hunger, it may just be the most healthy morsel you've eaten all week.
Designed to be a replacement for a meal or a calorie subsidy on an active day, one bar provides 370 calories of on-the-go energy
Certified organic ingredients are also 100% vegan friendly
Good source of Omega 3 and 6 fats (you know, the good kind of fat your body needs)
Rather than being baked, ingredients are left raw for better nutrition and access to helpful enzymes
What do you think about this product?
Have questions about this product?
I bought the original PB&J and it's not too bad. Doesn't really taste too much like real PB&J but that's ok. At least the taste is somewhat there. I'm not used to eating organic things so this took a little getting used too. They do keep you full for a bit and are good for a replacement meal. Over all this was pretty good and will try some others.
Wow, what a great trail treat! These things really taste great, and pack some long term energy in them. The fat and calorie content are not for the faint of heart, but that's because they are a meal replacement bar. When your on the go, and need to get some serious fuel into your body, and gels and shot blocks just are not going to cut it, throw one of these in the pack. I've tried a variety of flavors, and haven't found a bad one in the bunch!

Ok, sure they are pricey, let's talk about that: did you look at the ingredients list? Where else can you get an OG, Vegan, Raw food mean for this price. Cheaper than a trip to the farmers market, and better tasting than your weird friend's "heady" recipes, brahhhhhh.

Sure you could get something not as good for you for cheaper, but you could also eat dog food like mad max, and I don't see you doing that yet either....

Bottom Line: YUM!