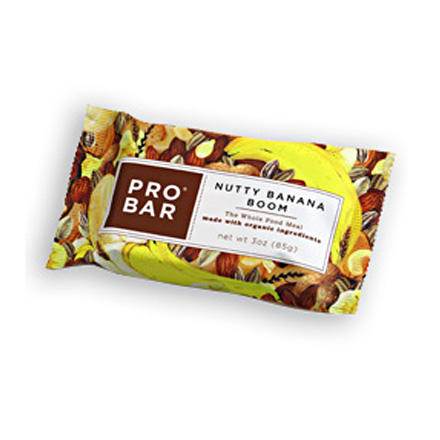 Community Images
ProBar made the Nutty Banana Boom Energy Bar out of 70% raw food to give you natural energy for your day on the trail. The flavor gives you a great banana taste without the mossy-teeth syndrome of fresh bananas. The nutrition load in the 100% vegan Nutty Banana Boom Bar satisfies your appetite and your body's needs before, during, and after a hard workout. ProBar blended this bar instead of baking, to make it easy to digest and to preserve the vital nutrients.. ProBar substituted the usual carob chips with dark chocolate, so you get a delicious hint of chocolate in the Nutty Banana.
Close Challenger to the Old School PB&J!
I absolutely love these bars. If you are like me, you just can't have all of the same bars on a backpacking trip. No matter how much you like Clif bars (or whatever), you will be sick of them soon if that's all you brought. I love having these ProBars for my rotation.

They are moist, dense, nutty, fruity, tasty, filling, and 100% vegan. Around 400 calories, they make a nice meal replacement (or supplement). I have enjoyed all the flavors I've had so far, with the "Old School PB&J" being my favorite, but this one is a close second.

They also work well to throw in your desk drawer at work for those busy days when you can't get away for lunch. I prefer to buy them as singles to make sure I like the flavor, but once you know, the box purchase is a good value. Do it. Get the Probar. Do it. :-)
Banana, Banana, Banana.....this bar doesn't have any lack in this delicious fruit. The mixture of nuts and Banana is mind blowing, delicious and gives you a ton of energy. In fact I had one for breakfast this morning and feel great! Definitely recommend if you're a fan of Banana.
The only bar I eat when I am climbing or biking! It really is a full meal and takes no time to consume. They are super healthy for you and you are supporting a Utah local company!
These bars are great. Not only do they taste good, but for 400cal per bar, its the most energy dense food I could find aside from peanut butter. These bars are only 4oz. Great stuff
I am sure that we've all thought the same thing for the past 15 or so years of our lives where we struggle to eat Powerbars, Clif bars,,,and other nasty bars. If you are like me, you wait till you are about to bonk to eat one because they just plain and simply are not good. Probar has done it right, producing a product that 1) I actually look forward to eating and 2) does what it is suppose to do gives you the energy you need, when you need it. They are on the expensive side, but IMHO we'll worth the extra coin.
Delicious, healthy, and filling, these bars are amazing! The Term energy bar is kind of misleading though, it doesnt give you a load of energy instantly, it gives you a good supply of energy for the entire day. This bar makes me into a pack mule, i just slog on steadily all day with it and feel fine the whole way.
So filling! You definitely feel like you are eating real food with these. Love the banana flavor (hope to see the pistacio on here soon too)
These are my favorite out the pro bars that I have tried. Def worth the price. easy to eat and stays semi chewy when frozen during ski tours. Love these and the flavor.
, ☃bcs_badge_alumni_label☃
yum
oh, man, these are really good. i love the chunks of banana chips and hte chocolate chips. easy on your stomach too.
Not quite as tasty as the original flavor
Nutritionally, these are great. They don't freeze up to a brick in cold weather (or at least down to the ~10F that I tested), and they are bigger and give you a lot more sustained energy than any of the other bars that I've tried. Personally, I prefer the taste of the original flavor, though that's completely subjective.