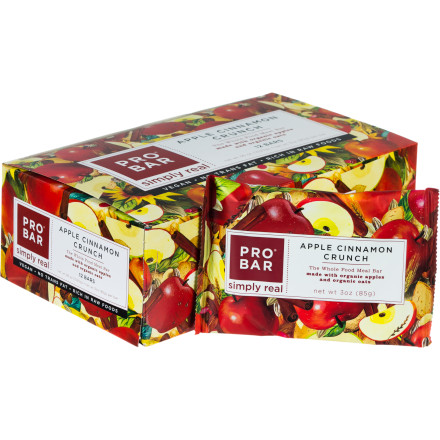 Detail Images
If you've written off meal replacement bars as unpalatable, chances are, you haven't tried a ProBar Meal Bar. Rich in raw organic ingredients and available here in eight different varieties, you're certain to find a ProBar that will satisfy your taste buds and your body.
Made entirely from unprocessed organic ingredients
Raw ingredients
ProBar supplies between 370-390 nutrient rich calories per bar depending on the variety
Available in a box of 12
Old School PB&J: organic oats and organic peanut butter
Nutty Banana: organic bananas and organic oats
Peanut Butter Chocolate Chip: swirls of organic peanut butter and dark chocolate
Koka Moka: like mocha in your coffee ... in a bar
Double Chocolate: packed with organic sunflower and flax seeds plus chunks of chocolate
Cran Lemon: zesty with a smooth citrus kick
Cocoa Pistachio: peanuts, roasted pistachios, and unsweetened dark chocolate (sweet and savory)
Apple Cinnamon: sweet apples, nuts, and a bit of cinnamon
What do you think about this product?
Have questions about this product?
Peanut Butter Chocolate Chip
Familiarity:

I've put it through the wringer
The PB Chip is my fav, but all the flavored are good. Tasty, vegan and all natural, Pro Bars are only meal bars I will eat. Alway good to have a couple boxes in the pantry.
oh man... the koka moka... I cannot get enough. For early morning tours / times Im too lazy to make breakfast, these keep me going. They are also great to throw in a backpack and forget about until that one day where you are "dying" on the trail. The koka moka really has no coffee taste at all in my opinion... just great chocolate.