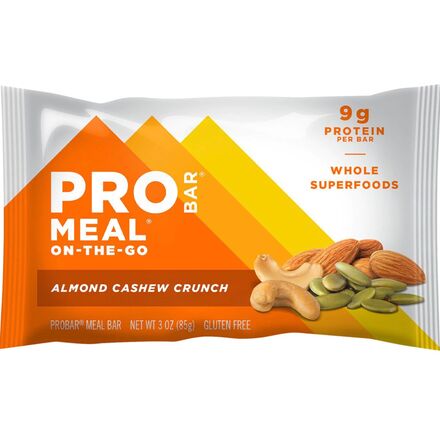 Colors

Detail Images
Description
Refuel right.
The ProBar Meal Bar features a non-baked recipe with all-natural and organic ingredients, offering you a much healthier (and tastier) way to refuel. The Meal Bar is 100% vegan and its low glycemic-index prevents sugar spikes and crashes. ProBar also carefully controls the sodium-protein balance in the recipe, which means it requires less water to digest so you can hydrate efficiently. Also, the Meal Bar has an excellent shelf life even though it's preservative-free.
Non-baked recipe with organic ingredients
100% vegan
Carefully controlled sodium-protein balance
Contains peanuts and tree nuts
My wife's favorite
Familiarity:

I've used it several times
I bought a box of these for a mountain bike trip in the Pacific Northwest. My wife questioned my decision at first saying stating she wanted a different kind of granola bar. Then she tried the ProBar Meal Bar and she was sold. She constantly asks me which flavors we have in stock when our supply is low.

These bars do feel more heartier than others on the market and they taste better, too.
Actually filling
Familiarity:

I've put it through the wringer
These are delicious, and one of the few meal bars that actually leave me feeling satisfied. I usually try to carry a couple with me in my commuter bag, and they are perfect for in between meal snacks, or even as a meal replacement if you're really in a bind.
Great taste
Familiarity:

I've put it through the wringer
These are all nature and they sure do taste great. I love to eat these an hour before my ride. They don't sit heavy in your stomach. They go done every easy, no more choking down powerbars.
Great Taste & Goes Down Easy
Familiarity:

I've put it through the wringer
Ever had that feeling when you're going hard where you literally have to "choke" down those precious calories? That's what I love about the pro bar -- they taste great, and I'm able to consume them under pressure without experiencing that. Many great flavors to choose from too -- chocolate coconut, oatmeal raisin and mixed berry are some of my favorites.
My backcountry lunch
Familiarity:

I've put it through the wringer
Pro Meal bars are my standard backcountry lunch. They are tasty and high in calories and I have yet to get tired of them.
Delicious and doesn't freeze
Familiarity:

I've put it through the wringer
I've had too many experiences skiing in the backcountry and I reach for my bar only to find it turned into a piece of molar-cracking slate. Then, I was introduced to PROBAR. They don't freeze (or at least don't freeze as easily) as other bars I've had in the backcountry, making them far more palatable then some of the other bars out there. There's nothing worse than being starving and trying to chomp down frozen bars. I'll often pair these with the bolt chews for longer missions, the combination seems to provide an ideal mix of quick hits of energy and long term energy.
Love ProBar -
Familiarity:

I've put it through the wringer
I use these for the longer rides that I do 80-150 miles. Never get tired of them. They contain real food as they claim. They are dense and really pack in the nutrition. Easily digested (for me). Worth the price, it is a great product.
Awesome energy, no sugar crash
Familiarity:

I've put it through the wringer
We always have Pro-bars in the house, and they're my go-to food bar if I need something mobile and/or quick. I've tried most of their flavors and they're pretty much all really well executed. I also like that they look and taste just like compressed piles of real food.
Contents: sugar, sugar syrup, sugar, sugar, sugar.
Taste: sugar.
Bottom line: sugar bomb. No. Never.
Fueled by ProBar Meals in Jackson BC
Love pro bar and great customer service
Familiarity:

I've put it through the wringer
I have been using pro bar for a while now and just recently had a weird experience. I opened up the first two packages out of the box and there was mold on both bars. Shot pro bar an email and within 24hours they had a new box on the way to me! Awesome support for an isolated situation. On one hand while I was bummed to see that on their product, it actually was kind of nice to see that real ingredients that can go bad are use!. I have pulled year old opened cliff bars out of old packs that look brand new. Scary stuff. Long live probar.
Chocolate and Coconut
Familiarity:

I've used it several times
so damn good. chocolate chips and coconut YUM!
Delicious and nutritious...
Familiarity:

I've used it once or twice and have initial impressions
...and they make you feel ambitious!



I've never really thought much about buying food online, but I decided to order a box of ProBars after reading the many positive reviews here. I used to be big into Clif Bars, but the ProBar reviews really peaked my interest and I'm so glad I followed through. One of my biggest pet peeves about Clif Bars was that they are very dry. I saw another reviewer mention that these are moist and indeed, they are definitely moist and delicious. I opted for the Superfruit Slam, as I love anything fruity, and these did not disappoint. It's so nice to unwrap a bar and actually be able to see each individual ingredient, as opposed to the conglomerate rock Clif Bars seem to be. A few of the other reviewers mentioned that these bars are big and quite filling. While they are somewhat big in size, I do not find that they are that filling. Maybe it's because I'm a bit of a beast? I'm not sure, but I can eat a whole bar as a warm up before tackling a chicken salad wrap, and then some. Regardless, taste and texture definitely beat out Clif Bars any day. True, a 12-pack box of Pro Bars does cost twice as much (or more) as a 12-pack box of Clif Bars, but these are worth the price. I always prefer to shop with Backcountry.com, so I was a bit disappointed to find that many other websites offer the same 12-pack for about $15 less. However, after speaking with a Gearhead, I was able to take advantage of the Price Match Guarantee and still keep supporting the goat! WINNING!



And just in case anyone else is curious to know what these things look like before you buy (I was), I've attached a photo of the Superfruit Slam goodness. Bon appetite!
Great taste!
Familiarity:

I've used it several times
When doing long bike rides, I love to eat solid food. ProBar meals taste great and are easy to eat while on the bike. They fit great into a jersey pocket. It gives you that little extra energy when you start to feel bog down. My favorite flavor is the Whole Berry Blast.
Possibly the best bars ever made!
Familiarity:

I've put it through the wringer
One of my biggest peeves when I'm skiing is when people want to stop skiing, go inside, and eat. Whats up with that? Stop skiing? You have to take your gear off, snow melts and everything gets wet, then you need to take time for it to dry off, then somebody wants a hot coco, and before you know it you've wasted over an hour of your day and everyone is feeling lethargic after filling up on chicken tenders and fries and ready to call it quits! Not cool!!



Of course I'd tried ClifBars and a few other brands, but I'd always end up getting sick of the bar after a few weeks regardless of flavor. Thankfully I discovered Probars and now I stock pile them... I mean I have a cabinet in my kitchen devoted only to boxes of Probars stacked ontop of each other. These bars are damn near juicy, not dry like ClifBars. No time to cook something before the next bus comes by to get the mountain? Meal bar for breakfast. Need a quick snack after? Fuel bar hits the spot. Lunch break? Meal bar on the lift. Need a quick boost after? Try the BOLT Chews. Gotta get to work by 5 pm and no time to cook after skiing? Another meal bar. I've actually gone days on end eating nothing but Probars. They have a plethora of flavors (I've tried almost all of them) and all of them are good, but my favorites are the Oatmeal Raisin, Arts Original, Superfruit Slam, Superfood Slam, and Superberrys and Greens. The meal bars are big, I wouldn't really call it a full meal but it's pretty darn close and it's not like you'd want to eat a full meal in the middle of an active day, I never feel weighed down after eating one. They might be a bit more expensive than most bars out there but you get what you pay for, the ingredients are top notch and as a meal substitute it's actually pretty cheap.



After about two years of using Probars as my go to meal for an active day I'm still not sick of them. Bottom line, If you haven't tried Probar yet you're missing out, and once you do you'll never want to eat a ClifBar again.
Delicious, but kind of big
Familiarity:

I've put it through the wringer
These are delicious. But keep in mind that as the title says, they really are meal sized -- not quite right for workout food, unless you are ok with eating half and saving the rest for later. I guess as far as foods go, being so delicious that it's hard to stop eating them isn't really a big problem, but in my mind is the only factor keeping these from these being the perfect trail food.
I live off Probars!
Familiarity:

I've put it through the wringer
Love the meal bars, I live off of them. Chocolate Coconut is my favorite but chocolate mint is also very tasty. Really like the fact they are whole grains/seeds and all organic. They are also very filling and give me the satisfaction of real food.
Stops the rumbly in my tumbly
Gender:

Male

Familiarity:

I've put it through the wringer
Tried the super food slam, very delicious, plus it was healthy to boot. I love the fiber and protein that i get. I would recommend these to anyone who needs a meal during a long day at the crag or a long spring tour. Definitely does the trick, although a bit pricey.
Pro Bar > Clif Bar
Familiarity:

I've put it through the wringer
I won't touch a Cliff Bar ever again after having sampled the delights of Pro-Bar.

My first preference is the Superfood Slam - these things are HEARTY and quite filling, I will sometimes use them as a meal replacement during a busy day.



I love them for all-day outdoor endeavors, since they pack so much energy. Perfect for backcountry skiing, I ALWAYS have one in my pack. Added bonus, they don't freeze up and crack your teeth off like a cliff bar will....this I like.



I didn't like the Koka Moka flavour, I thought it was funky.

Otherwise I've been really pleased with the taste of the following:



Whole Berry Blast

Superfood & Greens

Superfood Slam



I put it through the wringer....yeah???

I guess I did.




Favorite Meal Bar
Familiarity:

I've put it through the wringer
Hands down, my favorite breakfast meal bar in the backcountry.