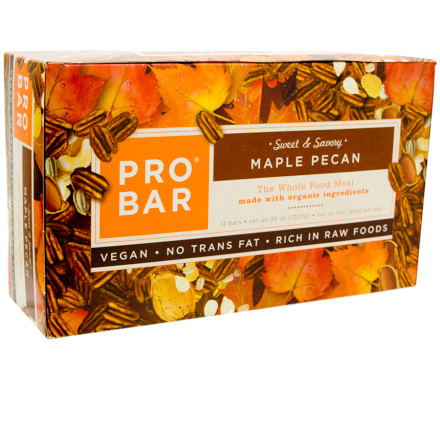 Detail Images

Community Images
You wake up, climb out of your tent, and start to prepare breakfast. The stove won't light, you forgot to pack breakfast food, and your energy levels are at rock-bottom. Climb back into your tent and unwrap ProBar's Maple Pecan Sweet and Savory Bar. This bar's taste reminds you of maple-syrup pancakes while the 70%-raw, 100%-vegan ingredients boost and maintain your energy levels.
hearty wholesome treat after climbing the West Slabs, Mt Olympus, Wasatch
photo: jim harris/www.perpetualweekend.com
Tastes Great, More Filling
Perfect crunchy chewy snack that tastes great and is more filling. After some sampling this is my go-to flavor. Not sure it replaces a meal, but it's a healthy snack that's highly portable and healthy.
Wow, what a great trail treat! These things really taste great, and pack some long term energy in them. The fat and calorie content are not for the faint of heart, but that's because they are a meal replacement bar. When your on the go, and need to get some serious fuel into your body, and gels and shot blocks just are not going to cut it, throw one of these in the pack. I've tried a variety of flavors, and haven't found a bad one in the bunch!

Ok, sure they are pricey, let's talk about that: did you look at the ingredients list? Where else can you get an OG, Vegan, Raw food mean for this price. Cheaper than a trip to the farmers market, and better tasting than your weird friend's "heady" recipes, brahhhhhh.

Sure you could get something not as good for you for cheaper, but you could also eat dog food like mad max, and I don't see you doing that yet either....

Bottom Line: YUM!
They are moist, dense, nutty, fruity, tasty, filling, and 100% vegan!
I absolutely love these bars. If you are like me, you just can't have all of the same bars on a backpacking trip. No matter how much you like Clif bars (or whatever), you will be sick of them soon if that's all you brought. I love having these ProBars for my rotation.

They are moist, dense, nutty, fruity, tasty, filling, and 100% vegan. Around 400 calories, they make a nice meal replacement (or supplement). I have enjoyed all the flavors I've had so far, with the "Old School PB&J" being my favorite, but this one is good.

They also work well to throw in your desk drawer at work for those busy days when you can't get away for lunch. I prefer to buy them as singles to make sure I like the flavor, but once you know, the box purchase is a good value. Do it. Get the Probar. Do it. :-)