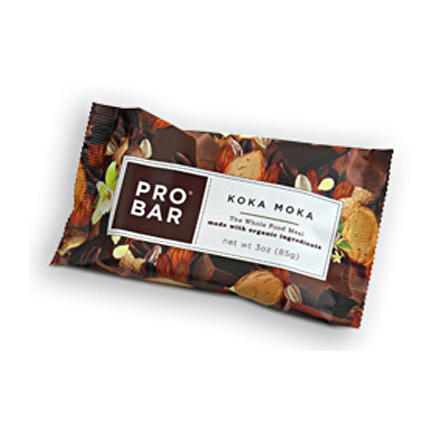 ProBar's Koka Moka Bar gives you a delicious mix of coffee and chocolate, plus natural energy for your busy day. Thanks to a 70% raw foods blend, the Koka Moka Bar digests quickly and easily, so your stomach isn't left wondering why you just gave it a solid brick that'll take an hour to break up. With this 100% vegan ProBar's mocha taste, you'll be on cloud nine.
They are moist, dense, nutty, fruity, tasty, filling, and 100% vegan!
I absolutely love these bars. If you are like me, you just can't have all of the same bars on a backpacking trip. No matter how much you like Clif bars (or whatever), you will be sick of them soon if that's all you brought. I love having these ProBars for my rotation.

They are moist, dense, nutty, fruity, tasty, filling, and 100% vegan. Around 400 calories, they make a nice meal replacement (or supplement). I have enjoyed all the flavors I've had so far, with the "Old School PB&J" being my favorite, but this one is good.

They also work well to throw in your desk drawer at work for those busy days when you can't get away for lunch. I prefer to buy them as singles to make sure I like the flavor, but once you know, the box purchase is a good value. Do it. Get the Probar. Do it. :-)
can I get these in Ontario Canada
can I get these in Ontario Canada
, ☃bcs_badge_alumni_label☃
Yes these are available for shipment to Canada.

Calculating International Shipping Rates:

So you want to find out what your international shipping charges will be. First, add the item or items to your cart. Then proceed to checkout (don't worry—proceeding to checkout doesn't make you obligated to purchase anything). Enter your address in the billing and shipping fields. Once you change the country, the page will show you the shipping charges.
, ☃bcs_badge_alumni_label☃
Yeah - go here:

http://lmgtfy.com/?q=pro+bar+Koka+Moka+ontario+canada
I wish I could stomach these things but I just can't. They all share a flavor that makes me want to puke. I took a few bites of this thing while bouldering one day and ended up giving it to someone else. I've also tried the cherry pretzel version and it still has that same awful tasting ingredient. I've looked at the ingredients closely and just can't put my finger on what it is. I'm thinking it's some type of seed or possibly a fruit. I prefer clif bars.
these are great energy alternatives for those of you that aren't so stoked on stuffing a "powerish" bar into your dry dehydrated mouth when you're in the middle of an activity. They provide a lot nutrients and taste good. they do the trick for sure
I have not tried a flavor of this bar that I do not like. When forced to eat bars, I often resist because most bars do very little other than provide some caloric input. However, these bars inspire me to eat them even when not away from civilization. They have an incredible list of ingredients, they do not set my stomach reeling, and they taste good.
Way pricey, but these definitely blow all other "bars" away. You can tell that much more effort goes into making these bars and you can taste the quality of the ingredients used. They do not skimp on whatever ingredients are in the bar that you buy and they cater to a vegan buyer's diet, which is nice. A no brainer if you are willing to drop an extra buck on a food bar.
Two of my favorite flavors come together in a neat little package. I really like ProBars, this is my personal fave. I like to eat these after a workout when I need something quick for recovery. I enjoy them while I'm backpacking, but if I'm doing any type of aerobic activity they're just a bit to heavy to get down.
Hesitant on the Aggressive Flavor, but is Damn good
I have been eating PRO BAR like it's going out of style for the last year, as a professional skier, I am out hiking at 4am and my day doesn't end until sunset sometimes. So, I am VERY selective in my nutritional needs when out there amongst it. I LOVE the ART's Original Blend flavored PRO BAR, eat it almost every day. I decided to step out of my comfort zone and try the Koka Moka. So good. Not in a 'weird' way. It just tastes good. I've eaten a few now, where I'll say to myself that I have to eat it over an hour period. I make it about 10 minutes every time.
I love ProBar. I love Koka Moka. But note that there are 20g of fat per serving/bar. Twenty grams is approximately 1/3 the "daily allowance." That is a lot. On long tours or all-day excursions in the mountains, the high fat content could be a perfect addition to all the healthy, organic ingredients that are packed into each bar - or it could just be irrelevant. But the fat content is something worth noting if you're just looking for a healthy mid-afternoon snack. If you don't give a damn about a few grams of fat, try the ProBar sweet and savories as well. With tasty little numbers like Sesame Goji, Cocoa Pistachio, Maple Pecan, Kettle Corn, and Cherry Pretzel, you may never count fat grams again.
I have been eating these for for 2 seasons. As I have said before, these are more of a meal replacement bar then an energy bar. I use them on long rides, where other bars are barely a snack, these fill me up. But for racing, no. Flavor wise, I liked these, but still prefer the Berry and cran lemon more.
ProBar Koka Moka - heavy duty
I've tried a few different flavors of ProBars, and they are all a bit hard core for me. I feel good after eating one, since it is packed with lots of healthy raw ingredients, but I find it hard to eat. They are really high calorie for an energy bar, which I like on long days. Each bar has close to 400 calories, compared to around 300 for a Clif bar.
I am a total foodie and usually like bars, etc...but I can't stand any of the ProBars. They all share a flavor that is totally yuch. While they may have the calories and nutrition you need...the taste utterly awful. My boyfriend has now "gotten used to that weird flavor". I just can't.
Still a bar but better than the rest. I like eating these on long bike rides and ski tours. Gets a little hard in the pack on cold days but not as hard as other bars and still stays chewy. Nice that they are organic as well.
I absolutely love these bars. They are my favorite. They are very good if you don't have time for a meal. They keep you full for a very long time. A must to keep in your pantry.
These are very good bars. I use them when I need energy during the day or after a workout. They are a whole lot more nutritious than a snickers and last a lot longer in your stomach!
Very Whole Food but Very Tasty
If you have never had a ProBar, like I hadn't, you'll be surpise by the texture. Imagine getting whole bunch of nuts, seeds, fruit and grains then mashing it all together to form a brick using a sweet, sticky liquid binder.
Unlike most energy bars, this is not "cooked", it very raw. But surpisingly not at all unpalatable. In fact you can really distinguish several of the main ingredients like the nuts & seeds, the fruit and grains. It's definitely an energy bar in a class by itself.
, ☃bcs_badge_alumni_label☃
You'll have to hide these from yourself
Trust me, don't put too many of these in your desk at work, your car or your back pack. They are so good you'll find yourself 3-4 bars and 1000+ calories later wondering what just happened. My kids loved them too. But look at all of those stellar ingredients to the right - PROBAR packs in the nutrition and even though they may look spendy per ounce they compare and often beat other bars on the market.